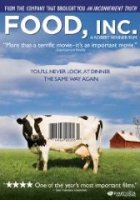 Food, Inc. (2008, Magnolia Home Entertainment, directed by Robert Kenner, PG )
I first heard about Food, Inc. seven months ago, and at that time posted the trailer, a couple of links, and my determination to see the movie when it became available on Netflix. Just before Christmas the disk arrived in our mailbox, so we packed it in our luggage and were able to enjoy it with my brother and his family, which was only fitting, as they are the ones who alerted us to the movie in the first place.
Everyone who eats should see this film. Alas, it only touches the surface of the problems in our food industry and doesn't have time to say much about solutions—but it's quite enough to inspire further research. The film's website might be a good place to begin.