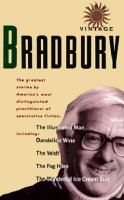 The Vintage Bradbury: Ray Bradbury's Own Selection of His Best Stories, by Ray Bradbury (Vintage, 1990) (original copyright 1965)

I picked this book out from my son-in-law's collection because my nephews had recently read Something Wicked This Way Comes for their book club, and I realized I hadn't read any Bradbury in a long time.
Now I'm probably done for another five years or so. Some of the stories were enjoyable, but most I found too weird and depressing for me. Tales of bizarre "healers" whose treatment of choice turns out to be rape, and of children plotting to kill their parents—not to mention babies murdering their mothers!—are not worth spending precious reading time on. I'm very sensitive to the content of what I read and watch—One Flew Over the Cuckoo's nest troubled me for years—and find it better not to give my mind too many dark ideas upon which to brood.
On the other hand, nobody writes like Ray Bradbury. I wish he had put his imagination and incredible descriptive skills to a more uplifting purpose; he's a genius, without doubt. His stories are about as close to poetry as prose can get—at least not without falling into the outlandish world of James Joyce.
And family is family. Ray Bradbury is my sixth cousin twice removed.