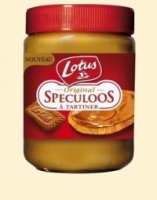 I mentioned Speculoos à Tartiner before, when in January this unusual Christmas gift caused both U.S. Customs and the TSA concern on my return from Switzerland. Now that Porter and I have been in the same city long enough to broach the jar, I find it deserves a post of its own.
The giving and receiving of this liquid gold at Christmastime should become a tradition on the order of stockings hung by the chimney with care.
Speculoos à Tartiner looks and spreads like peanut butter, and tastes like a Biscoff cookie. Thus far we have only sampled it on bread—plus a small, furtive spoonful this morning in the interest of journalistic accuracy. For the future I'm thinking pancake, waffle, and ice cream topping, fruit dip, frosting for a creamy vanilla cake, and a new twist on cinnamon rolls. What would you suggest?
It was with much trepidation that I looked at the nutritional data on the label, but it's quite comparable to peanut butter, being higher in sugar, but with fewer calories and less fat.
I'm curious to find out if any of my readers can obtain Speculoos à Tartiner at a local store. Wegmans, for example, is my court of last resort when it comes to unusual foods—what a pity the nearest store is 800 miles distant. But there's always the Internet, where you can buy this confection under the name "Biscoff Spread": $12.95 plus $5 shipping (continental U.S.) will get you two jars. One could easily replace the marshmallow chicks in an Easter basket.
Or you could schedule your own trip to Europe. True, that is somewhat pricier, but also infinitely more rewarding. And in all likelihood it will earn you personal attention from Customs and the TSA upon your return.