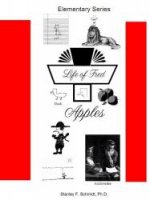 Life of Fred: Apples (and a whole lot more) by Stanley Schmidt (Polka Dot Publishing, 2012)
Grandparents like to buy presents for their grandchildren.
Grandparents especially like to buy books as presents for their grandchildren.
Grandparents love to give books about subjects that their grandchildren love.
Now it gets complicated: What books do you give a grandson whose number one passion is numbers?
So you ask, and you search, and you discover ... the many volumes of Life of Fred. The story of little Fred Gauss, the five-year-old math professor at KITTENS University in Kansas, twists and turns through mathematics from basic addition through fractions, algebra, calculus, and more—along with an incredible assortment of other facts about science, history, behavior, and almost anything else Stanley F. Schmidt's somewhat quirky mind can think of. It's not intended for preschoolers, but it's a story with a lot of math in it, so there's hope. What's more, it's a story about a small child who thinks about numbers a lot—and children like to see themselves in a book.
So far I've read the first two Elementary books (Apples and Butterflies), all three Intermediate books (Kidneys, Liver, and Mineshaft), and also Fractions, the first of the fifth-grade books. (Elementary and Intermediate takes the student through fourth grade, if you follow the suggested timetable. Not that we trouble ourselves with things like that.) I confess that I did not stop and do the math, but skipped the problems for the sake of getting through all six books in a day and a half. If you really want to learn the math, you must do the problems and not just read the stories. (It isn't that much work: one of the features of LoF is its avoidance of drill-and-kill.) If I ever get LoF: Statistics, I'll be sure to work all the problems, because I never did understand statistics, despite getting a B in my college course.
I'll say this: I like math, and I was a math major in college, but never until now have I read a math textbook at any level that I would be happy to re-read. Which is good, because that's the way preschoolers like their books.
There are only two things that get on my nerves a bit about LoF: (1) Schmidt makes no attempt to keep his opinions about life out of the books. There's nothing either unusual or wrong about this; all stories and many textbooks have the same feature. But some parents are bound to disagree in places, and should be prepared to discuss the issues. Which would be a good idea, anyway. For example, some parents have objected to Dogs (volume 4 of the Elementary series) because of the implication that some dogs die at the end of the story. (2) Despite Schmidt's insistence on good grammar and use of language in the books, e.g. pointing out that "alot" and "alright" are not acceptable words, I've noted more than one occurence of "different than" instead of "different from," "associate to" instead of "associate with," and the use of "their" as a singular pronoun. I know he's a math teacher, not an English teacher, but he could use an editor. It's an opportunity to diverge into your own grammar lessons—but it's yet another reason to make sure you know what it is your child is learning.
What will a three-year-old think of Fred? Will he enjoy the math story? Will he learn anything from it? Will our other grandchildren, who are old enough to do the problems woven into Fred's adventures, learn the math as well as the author advertises? They already have a great math curriculum, but mathematics, like history, deserves to be learned from several angles.
Time will tell. All can say at this point is that I certainly hope our grandchildren find Life of Fred to be valuable, because then I'll be able to read the rest of the stories myself.