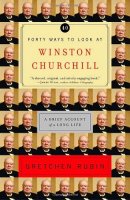 Forty Ways to Look at Winston Churchill by Gretchen Rubin (Ballentine Books, 2003)
What can Gretchen Rubin, famous for her books on happiness (The Happiness Project, Happier at Home), add to the multitude of books written about Churchill? Plenty, it turns out—at least if you are as ignorant of history as I am. Porter found it less interesting, because for him, there was little new.
My own interest in this book was piqued for a couple of reasons. While I was checking our library for Rubin's latest book, Better than Before, this—written well before her happiness books—popped up. Because we had recently watched the excellent Great Courses series on Churchill, I snapped it up.
My knowledge of Churchill being essentially no more than I had learned through those lectures, it was good, not tiresome, to hear the same stories again. Plus, the strength of Rubin's book is not in depth or special insight, but because she pulls together views of the man from many different biographical sources, demonstrating in the process just how difficult it is to write a biography—and impossible to write an unbiased one. In fact, the only real weakness I see in Rubin's book is that she can't hide her own great admiration for the man: she can't write the opposing side convincingly. But the facts are there, positive and negative, and I highly recommend Forty Ways as an easy-to-read introduction to this brilliant, complex man and his indomitable spirit.