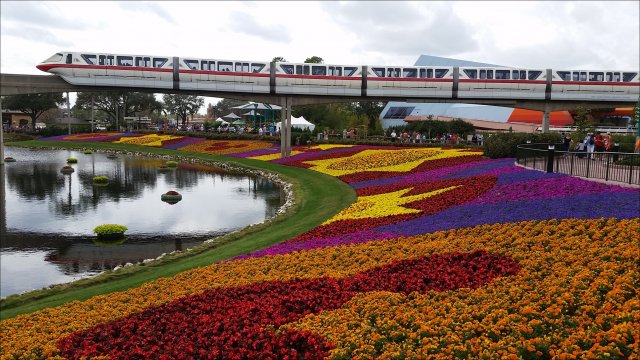 Yesterday was the first day of EPCOT's Flower and Garden Festival for 2016, and we were there to celebrate its opening. As always, the flower displays were wonderful, and the portable butterfly garden was fun.
The only "ride" we bothered with this time was Impressions de France, the wonderful tour of the country accompanied by even more wonderful music by French composers. This film is one of the few parts of EPCOT that remains unchanged, and since we both agree that few of the changes have been for the better, the French pavillion has become an EPCOT "must do" for us, as Dr. Doom's Fearfall is at Universal.
You never know, with YouTube videos, when some official is going to decide one violates something-or-other and take it down, but for now, at least, you can see an excellent production by Martin Smith of his visit there in 2011. I trust Disney World recognizes it for what it is: a longer commercial for EPCOT than they could ever get away with.
Our Disney disappointment came with lunch, which we had intended to enjoy at Norway in World Showcase. Norway used to be one of our favorite stops because of the Maelstrom ride, which sadly is now closed in preparation for being replaced by something based on the movie, Frozen. Oh, how I miss the days when the company abided by Walt Disney's admonition that EPCOT should remain completely separate from the movie characters!
As it turns out, there is now no reason at all to visit the Norway site. The Akershus restaurant, where we had intended to eat, has been turned into a "Princess Storybook Dining" event, exclusively. We were greatly disappointed, as the delicious and authentic Scandinavian fare was something we were looking forward to when we sprang for annual park passes for the first time in many years. But we declined the experience, on the grounds that if we were going to spend over $50 per person for a meal, (1) we did not want a "Disney Princess experience," and (2) we wanted better food than we could expect from a restaurant whose primary audience is now children. Apparently the only other hope for Scandinavian food in Central Florida is IKEA, so you know what a blow this was.
It was hard to stay sad for long, however, since as part of the Flower and Garden Festival they have set up many additional food kiosks, in the manner of the Food and Wine Festival, and we enjoyed some good Moroccan snacks followed by a lemon scone with crème fraîche and blueberries.