I opened up Facebook this morning to be greeted by the following "Suggested Post."
Some of my readers will immediately recognize the "Castle in Arquenay" as Château de la Motte Henry, where 10 years ago we celebrated Janet's birthday. We chose that fairy tale castle not because Janet is a romantic and highly imaginative person, although she is, but because the château happens to be the home of some dear friends, whose daughter would later be the flower girl in Janet's wedding. They are the most amazing hosts, and the experience was sublime.
The wonderful thing, as Facebook so cheerily told me, is that you, too, can have the Château de la Motte Henry experience! Well, not the friends-and-family perks, but let me tell you, these people know how to host an experience for their paying guests as well! Don't let the price tag put you off—share the cost with friends; it's a huge place! (No, I don't get a commission; I just love sharing something so special.)
If nothing else, take the time to go to the booking site, browse, and dream. Check out the amenities, marvel at the photos. I quote from the overview:
*JUST LISTED AS ONE OF "THE TIMES' TOP 20 CHATEAUX IN FRANCE" FOR HOLIDAY RENTALS!* -- (If you are a group larger than 14, please inquire about additional space & rates.) Live a fairytale dream in this romantic 19th century castle with its own private lake, swimming pool & cinema. Your senses will be dazzled with stunning views, gentle sounds of birds and rippling water, and the rich scents of roses and lavender. You will luxuriate in the privacy of 29 secluded acres, but only travel 2 km to reach all amenities. Whether you are a family, corporate group, or reunion of friends, the château offers pampering, fun and relaxation in a sublime setting for groups both large and small.

The château is an historically listed property, once open to the public, and now privately owned and operated. Featuring a motte (mound) from the time of Henry II surrounded by a moat, spectacular parkland, ancient trees, a private spring-fed fishing lake, and a Renaissance-inspired swimming pool within a secluded walled rose garden, the château is a haven of peace and tranquillity.

Here one can bask in the glorious French countryside, or discover the riches of the surrounding areas of the Loire Valley, Brittany & Normandy from this central location. Children & adults alike will delight in visits to the famous Loire châteaux, Mont St. Michel, D-Day Beaches, the fabulous Puy de Fou theme park and Zoo de la Fleche, all within a 1.5 hour drive. Within 15 minutes drive, one can experience beautiful gardens, golf, riding, nature-activity parks, river cruises, museums, stately homes & more. Or, you may simply never wish to leave the grounds of your very own château...

The château offers extremely spacious bedrooms, all with en-suite bathrooms; reception rooms comfortably yet elegantly renovated in keeping with the romantic style; & wonderful facilities for self-catering, such as a recently renovated designer kitchen with granite and marble-mosaic finishes, as well as three outdoor BBQs.

Special amenities include: Nespresso Machine, Bathrobes, Slippers, Large Welcome Basket, Champagne Reception on Arrival, Toiletry Kits in Bathrooms
Here's another view, Janet's own picture from a decade ago. Can you imagine walking through the woods and suddenly seeing this through a break in the trees?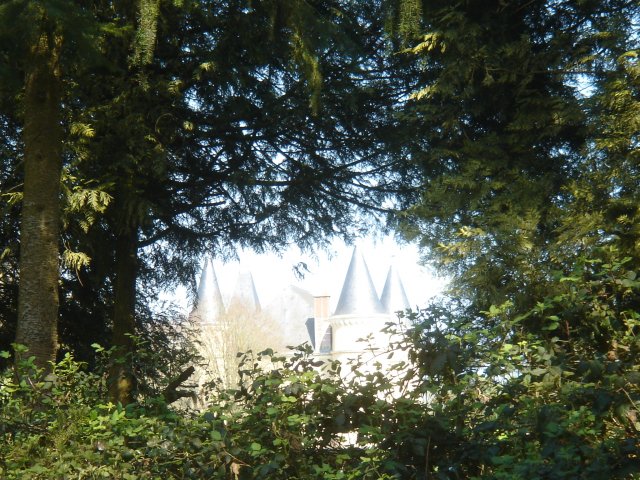 Facebook is scarily good at surprising me with relevant ads, but this one was the most amazing yet.