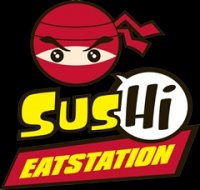 There's a Sushi Eatstation in one of our local shopping centers. I'm not generally a fan of strip mall food, and bad Asian food can be ... really bad. So I was initially suspicious of this design-your-own, food-fusion, fast-food restaurant. I mean, how weird is it to be able to make sushi with chicken, sweet potates, and bacon?
But today we decided to check it out. And am I glad we did.
We were too overwhelmed by the choices (check them out yourself) to design our own on this first visit, so we chose the Traditional Ninja combination, in a bowl, for $12. This was white rice, salmon, tuna, krab (the standard sushi fake crabmeat), cucumbers, avocado, scallions, masago, tempura flakes, seaweed salad, sesame seeds, nori seasoning, ponzu, and sriracha, to which our server added some ginger and wasabi.
The large bowl was plenty for the two of us, though it was so good I could easily have eaten it all myself.
Was it traditional? No. Was it an awesome sushi experience? No. Was it a delicious flavor and texture experience? Absolutely. Will I return to the Sushi Eatstation? I certainly hope so!