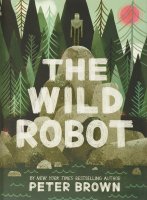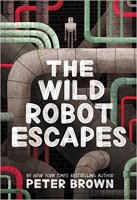 The Wild Robot and The Wild Robot Escapes by Peter Brown (Little, Brown 2016, 2018)
When everyone in the house (adult, 17, 14, 12, 10, 8, and 6) approves of a book, I generally find it worth looking into, despite my well-ingrained—and more often than not justified—prejudice against recently-written children's books. Peter Brown's Wild Robot books were definitely worth the reading.
Brown's story of a robot cast away on an uninhabited (by humans) island and how its programming directs its adjustment there, and in later adventures, is very well done, reminding me of Isaac Aimov's treatment of the practical and ethical issues of a society that includes multitudes of robotic machines.
There's love and conflict and tragedy and emotional struggles, all handled sensitively. I can't say I like these books better than S. D. Smith's Green Ember series, which my readers know I love greatly, but they are less dark—and less violent, despite some scary adventures. I detected no warning bells for my very sensitive grandchildren on the other side of the family. They may especially enjoy that the main character is female (if one can say that about a robot) who is strong and smart, gentle and motherly.
Sure, I could make some complaints, but they're minor and overshadowed by the good.