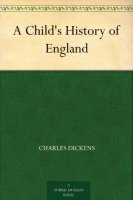 A Child's History of England by Charles Dickens (public domain, 1851-1853)
Dickens' book is, unsurprisingly, in the public domain. I read the free Kindle version and it was fine, though it might be worth springing for another $2 and getting the original illustrations as well.
A Child's History of England is a maddening book, yet a valuable one. According to its Wikipedia article, it "was included in the curricula of British schoolchildren well into the 20th century." It never could be now—which may be an indication that it should be. It is one man's very biased view of English history, hence valuable to balance other biases.
What's good about it? Well, I appreciated the organized layout of English history from ancient times up to the reign of William and Mary, with a very quick summary thence to Queen Victoria. Bit by bit, through several sources, I am gaining knowledge of the history of the lands that were home to many of my ancestors and played a significant part in the development of Western Civilization. The book, being designed for intelligent children, is both readable enough and interesting enough to read much more like a story than a textbook.
What didn't I like? To begin with, it is obviously and admittedly a propaganda piece. Dickens himself said of his book,
I am writing a little history of England for my boy ... For I don't know what I should do, if he were to get hold of any conservative or High Church notions; and the best way of guarding against any such horrible result is, I take it, to wring the parrots' neck in his very cradle.
Dickens does not appear to have liked England very much. He praises the Saxons, and holds Alfred the Great in very high esteem. Henry V wasn't too bad, and Oliver Cromwell gets too much credit for not being as horrible as the kings that preceded and followed him. Other than that, Dickens doesn't seem to have much respect for any of the British monarchs and their hangers-on. He also passionately hates the Catholic Church, and much of the undivided Church itself before the Reformation. The Puritans are heaped with scorn as well. He clearly claims to be a Christian, just as he claims to be an Englishman, but doesn't seem to care much for either Christianity or England. Sometimes the book feels less like a history and more like a series of ad hominem attacks. He even manages to draw a caricature of Joan of Arc as a mentally deficient peasant girl abused for others' gain.
Part and parcel of his prejudice, I believe, his his annoying habit of inconsistently referring to people sometimes by name, sometimes by title, often by nickname, and even by insult. I found this to make keeping the characters straight difficult, and I tired of flipping back several pages to try to figure out which particular duke was currently meant. It certainly doesn't help me to remember that he's talking about King James I when most of the time Dickens refers to him as "His Sowship."
For all that, I do recommend reading A Child's History of England, though only in the context of competing viewpoints. It does a good job of helping to put together the pieces of the complex puzzle that is the story of England.