My readers from Florida will recognize that even the best citrus juice you can buy in a grocery store is a pale imitation of the Real Thing. Standardization and pasteurization may make for a consistent product that can be safely transported all over the country, but what it does to the taste is almost unconscionable.
I'm here to tell you that the same thing is true of apple juice, and apple cider.
These days, what is sold as apple juice is slightly flavored sugar water. Process it just slightly less and give it the label "cider" and it's drinkable. Several years ago, when new regulations made it nearly impossible to get unpasteurized cider, this became true not only in Florida but for most of the rest of the United States as well. But I spent my childhood in upstate New York, where fresh apple cider was one of the greatest autumn joys. Unpasteurized, unfiltered, the flavor varying with the variety of apples pressed.
No one who has not experienced the difference can understand how much harm pasteurization does to flavor, be it of orange juice, cider, or milk. In the Live Free or Die state the orange juice is as bland as anywhere, but I've been enjoying fresh-from-the-farm milk, as I do in Switzerland.
And recently we made our own cider.
Picking.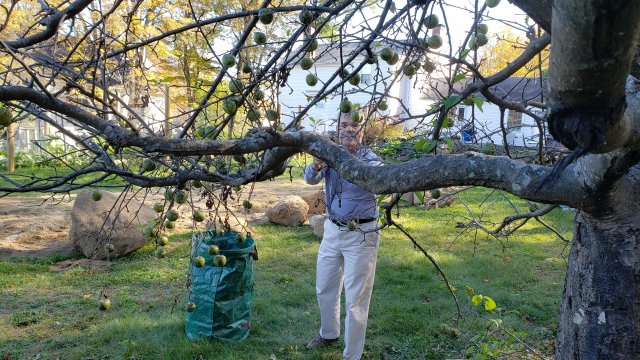 Prepping.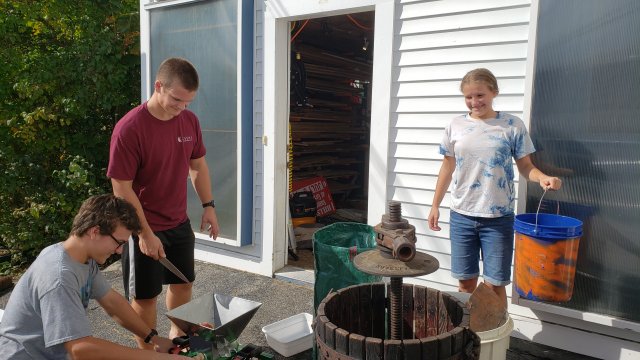 Put it into the refrigerator straight from the press and you get an incredibly refreshing drink that explodes with the taste of fresh-picked apples. Let it sit on the counter for a day first and you get a slightly carbonated, slightly fermented drink reminiscent of Swiss apple cider.
I'm certain that letting it ferment longer would eventually give hard cider, then vinegar. But it always disappears before it can get to that point, even if we wanted to. :)