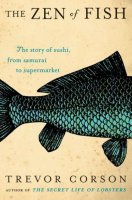 The Zen of Fish: The Story of Sushi, from Samurai to Supermarket by Trevor Corson (HarperCollins, 2007)
Eating sushi is like rearing children: there's always someone happy to point out that you're doing it all wrong.
Not that I care much. So what if many of the rolls I love are American inventions? If the Japanese consider them to be inside-out rolls? If adding more seasoning to your roll is an insult to the chef? (Well, I suppose I care a bit more about the last. I don't like insulting people, especially not those who are providing my dinner. Then again, I'm the one eating it.) I like Japanese sushi; I like American sushi; and I don't mind being too unsophisticated to enjoy the sea urchin and raw quail egg combo that Porter ordered in Boston.
However, I was happy to learn that sushi is meant to be eaten with the fingers, not chopsticks. And eaten in one bite—though I'm not sure how. Do the Japanese have larger mouths than Americans? Seems unlikely.
The Zen of Fish weaves the history, science, and culture of America's unexpected food craze together with the adventures of students at the California Sushi Academy. It's well-written, highly informative, fun to read, and will make you very hungry—when it's not causing you to rethink consuming fish in any form. My only complaint is that the author apparently considered his target audience to be largely made up of adolescent boys. I could have done without most of the sexual references and innuendo—although it was quite cool to learn about the shrimp that start out male, then after a few years become female. The timing of the change assures a gender-balanced population, suggesting perhaps that shrimp are smarter than people.
Okay, even writing about sushi makes me hungry.