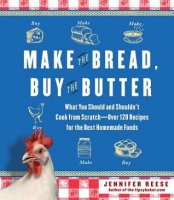 Make the Bread, Buy the Butter: What You Should and Shouldn't Cook from Scratch—Over 120 Recipes for the Best Homemade Foods by Jennifer Reese (Free Press, 2011)
In 2008, like many people, Jennifer Reese lost her job. I don't know what that job was, but if it didn't involve writing, losing it was not a tragedy, but a blessing. She's a wonderful writer: clear, informative, and funny. Definitely funny.
Faced with the opportunity to reconsider her life, Reese decided to focus on food, and the modern tension between do-it-yourself and buy-it-off-the-shelf:
Where is that sweet spot between buying and making? What does the market do cheaper and better? And where are we being deceived, our tastes and habits and standards corrupted? Could I answer this question once and for all? I didn't want an answer rooted in ideology, or politics, or tradition, or received wisdom. I wanted to see the question answered empirically, taking into account the competing demands—time and meaning, quality and conscience, budget and health—of everyday American family life.

And so, over the next months and years, I got some chickens, which I loved; and some ducks, which I loathed; and some turkeys, which we slaughtered. I learned to make cheese and keep bees and worried that the neighbors were going to call Animal Control. I cured bacon and salmon, canned ketchup, baked croissants, and made vanilla extract and graham crackers. I planted tomatillos and potatoes and melons and squash. My son, Owen, joined 4-H and practically moved into the yard, while my teenage daughter, Isabel, refused to step outside the back door at all, especially after the goats turned up. My husband, Mark, rolled his eyes at all of it except the homemade yogurt. That, he ate by the quart. At the height—or maybe it was the depths—of my homemaking experiment, I had pickles lacto-fermenting on the counter and seven varieties of jam, ranging from banana-chocolate to plum, arrayed in the pantry, and absinthe and Taleggio cheese mellowing in the crawl space behind my closet. I was overwhelmed and a bit of a mess, but I had my answers.
Turkeys? Homemade bacon? This was no simple save-money-by-making-my-child's-school-lunch project. But the results make for marvellous reading. It's a treasure trove of recipes, too, and I would be tempted to add a copy to my collection, if I weren't busy trying to get rid of a vast collection of cookbooks gathering dust on the shelves because when I need a recipe and it's not handy, I immediately turn to Chef Google.
The answer to the question that drove me to reading the book, Why not make the butter? is a simple matter of economy. Making butter is easy, and the result delicious, but cream is expensive. Store butter is good enough that the author can't justify the extra expense of homemade. "Unless," she adds, "you have a cow."
Reese might have chosen a different title: Make the Bun, Buy the Hot Dog. What she went through to make hot dogs leaves me all the more glad that Oscar Mayer now has a nitrate/nitrite-free hot dog that is delicious.
Make the Bread, Buy the Butter is much more than a recipe book. For each entry, you get a story (often funny), a recipe, a difficulty rating, a cost comparison, and a "make it or buy it" recommendation. Sometimes the answer is "both." There's nothing like homemade mayonnaise, for example, but "Hellmann's has its place."
Maybe my favorite quote:
"Eat all the junk food you want as long as you cook it yourself," Michael Pollan writes in Food Rules. ... "Chances are good it won't be every day."

Oh Michael Pollan, you underestimate me.
Finally, a longish quote from the Afterward, which sums things up well:
It's empowering to know I can cure bacon, brew vanilla, age Camembert, extract honey from a hive, and behead a chicken, even if I have no desire to do at least one of those things ever again. Even if, in the end, I spent more money than I saved. (A few costly projects like the chickens and the bees ate up all the savings of from scratch cooking.) Big food companies flatter us by telling us how busy we are and they simultaneously convince us that we are helpless. I am moderately busy, but not all that helpless. Neither are you. Everything I did in the course of my scratch-cooking era—with the possible exceptions of eviscerating poultry and stuffing hot dogs—was very, very easy. [She must have blocked out the experience of making croissants: "unbelievable hassle," though she still recommends making them, unless you live near a good French bakery.]

But the more helpless we feel, the lower those food companies move the bar of our expectations, and the bar is now very low at your local supermarket. Trust me. I have eaten my way through mine. It makes me quite furious when I think about the sicketating powdered hollandaise sauce, the extortionate price of the vanilla extracts, the pathetic bread, the soups sweetened with corn syrup, the abomination of Pillsbury "creamy vanilla" canned frosting that contains neither cream nor vanilla. It upsets me that we pay as much for these foods as we do.

Almost everything is better when it's homemade. While this may have started out as opinion (though I'm not sure it did), I would now state it confidently as fact. Almost everything. But not everything. Which makes me inordinately happy. Because I think it's reassuring that you can walk into a supermarket and buy a bag of potato chips and a tub of rice pudding that are better than anything you can make at home. I wish there were more foods like that. I really don't want to spend my life standing over a stove, muttering about the evils of ConAgra and trans fats. It seems a tragic waste to shape one's life around doctrinaire rejection of industrial food. Which means, I suppose, both insisting on high standards most of the time and then, sometimes, relaxing them.
Jennifer Reese has a blog, The Tipsy Baker. I haven't read much yet, but I'm sure I'll find it clear, informative, and funny.