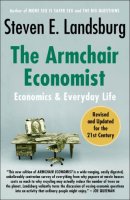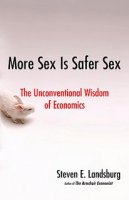 The Armchair Economist: Economics and Everyday Life by Steven E. Landsburg (Free Press, 2012)
More Sex Is Safer Sex: The Unconventional Wisdom of Economics by Steven E. Landsburg (Free Press, 2007)
Steve Landsburg was a classmate of mine at the University of Rochester who, like my friend and roommate Kathy, went on to graduate school at the University of Chicago. He always was bright, and what I remember most about him is his ability to think outside the box. Kathy graduated after four years with simultaneous bachelor's and master's degrees in mathematics; Steve did essentially the same thing, but took the master's degree alone, thus avoiding the foreign language and physical education classes that were at that time required for an undergraduate degree.
Eventually, he returned to his roots and became a professor of economics at the same University of Rochester, perhaps because economics gives him so many opportunities to demonstrate (1) how economically illiterate most ordinary people, media commentators, and political leaders are, and (2) how often careful economic analysis leads to results that are unexpected and contrary to what we might like to believe.
Both of these books are filled with examples. They are illuminating, witty, and fun to read. They are also proof that no one in his right mind would make decisions solely on economic principles. At the same time, those economic principles, even when applied in grossly simplified situations, shed invaluable light and provide ways of thinking about problems that are otherwise hopelessly fuzzy.
I enjoyed The Armchair Economist so much I immediately bought a copy for our 15-year-old grandson. I enjoyed More Sex Is Safer Sex as well, but (1) the former is more basic and has been more recently updated; although the principles of the latter are still sound, the technological examples from only 12 years ago positively creak with age; and (2) I have to answer to his parents. He can get it (and/or others of Mr. Landsburg's books) out of the library if he wants more.
The Armchair Economist
Table of Contents
I. What Life Is All About
The Power of Incentives: How Seat Belts Kill
Rational Riddles: Why U2 Concerts Sell Out
Truth or Consequences: How to Split a Check or Choose a Movie
The Indifference Principle: Who Cares If the Air Is Clean?
The Computer Game of Life: Learning What It's All About
II. Good and Evil
Telling Right from Wrong: The Pitfalls of Democracy
Why Taxes Are Bad: The Logic of Efficiency
Why Prices Are Good: Smith versus Darwin
Of Medicine and Candy, Trains and Sparks: Economics in the Courtroom
III. How to Read the News
Choosing Sides in the Drug War: How the Atlantic Monthly Got It Wrong
The Mythology of Deficits
Unsound and Furious: Spurious Wisdom from the Media
How Statistics Lie: Unemployment Can Be Good for You
The Policy Vice: Do We Need More Illiterates?
Some Modest Proposals: The End of Bipartisanship
IV. How Markets Work
Why Popcorn Costs More at the Movies: And Why the Obvious Answer Is Wrong
Courtship and Collusion: The Mating Game
Cursed Winners and Glum Losers: Why Life Is Full of Disappointments
Random Walks and Stock Market Prices: A Primer for Investors
Ideas of Interest: Armchair Forecasting
The Iowa Car Crop
V. The Pitfalls of Science
Was Einstein Credible? The Economics of the Scientific Method
New Improved Football: How Economists Go Wrong
VI. The Pitfalls of Religion
Why I Am Not an Environmentalist: The Science of Economics versus the Religion of Ecology
From "The Power of Incentives"
Occasionally people are tempted to respond that nothing ... is worth any risk of death. Economists find this objection particularly frustrating, because neither those who raise it nor anybody else actually believes it. All people risk death every day for relatively trivial rewards. Driving to Starbucks for a Mocha Frappuccino involves a clear risk that could be avoided by staying home, but people still drive to Starbucks. We need not ask whether small pleasures are worth any risk; the answer is obviously yes. The right question is how much risk those small pleasures are worth.
From "Truth of Consequences"
Smoking habits are a quick and easy indicator of general health consciousness. They reveal your type in a publicly observable way. Insurance companies use that information by offering lower premiums to nonsmokers. If you take advantage of such an offer, your discount reflects more than just the health benefits of not smoking. It reflects also that, as a nonsmoker, you are more likely than average to be watching your cholesterol.

Insurance companies know that people cheat, and they account for that when they set the nonsmoking premiums. If you are truly a nonsmoker, you pay a little more because some "nonsmokers" are sneaking cigarettes where the insurance company can't see them. But do not jump to the conclusion that if cigarettes were banned, your insurance rates would fall. As a voluntary nonsmoker, you implicitly notify you insurance company that you are probably cautious in a lot of ways they can't observe. As a nonsmoker in a world without cigarettes, you might be indistinguishable from everybody else, and be charged accordingly.
From "The Indifference Principle"
Call it the Indifference Principle: Unless you're unusual in some way, nothing can ever make you happier than the next best alternative. You might prefer cheddar cheese to provolone, but if all your neighbors share your preference, then the price of cheddar cheese must rise to the point where you're just as happy to buy the provolone. Fortunately most of us are unusual in a great variety of ways, which is what allows us to benefit from choosing one activity over another. The Indifference Principle calls our attention to the fact that the greatest gains in life come in the areas where we're most unusual. [my emphasis]
From "Telling Right from Wrong"
During his years in the White House, President George Bush occasionally wished out loud for lower interest rates to ease the burden on young home buyers. For heaven's sake, everybody already knows that lower interest rates ease the burden on home buyers. Everybody also knows that lower interest rates can devastate people who are saving for their retirement. To call attention to one side of the cost-benefit ledger while ignoring the other is plain dishonest. If a politician wants to argue legitimately for lower interest rates, he needs to explain not why it is good to help borrowers, but why it is good to simultaneously help borrowers and hurt lenders.
From "Choosing Sides in the Drug War"
Our insistence on counting all individuals equally has some striking implications. One implication is that a change in price is never either good or bad. Whatever buyers gain, sellers lose. Price changes often result from changes in technology or in the legal environment, which can simultaneously affect production costs or consumption levels in ways that can be good or bad. But a price change in and of itself is neither a good nor a bad thing.
From "How Statistics Lie"
In a world of many prices that fluctuate independently, there is no way to construct a single meaningful index that is not biased in one way or another. The U. S. government actually reports several different measure of inflation, each with its own built-in biases, and economists try to be careful about selecting the right index for the right purpose. Particularly in times of high inflation, the media tend to focus on the [Consumer Price Index], perhaps because it serves their purpose of making things look bleak. Journalism is the dismal art. [My emphasis. This is a play on economics frequently being referred to as "the dismal science."]
For three decades in the United States of America, the income gap between the rich and the poor appears to have been widening. If you looked just at a snapshot of the numbers, you might be forced to conclude that while the rich have gotten richer, the poor have done nothing but stagnate. But there are several reasons to take those numbers with a grain of salt.
Landsburg goes on to explain that in detail; I'll include just two of his reasons—because I'm getting tired of typing.
Second, income tax rates were cut dramatically in the 1980s and again in the 2000s under Presidents Reagan and Bush. Those tax cuts had important real effects, but they had important illusory effects also. When tax rates fall, people devote less effort to hiding their incomes. For that reason alone, reported incomes go up, especially at the high end. ... Any tax cut tends to create an exaggerated appearance of a growing income gap.
Third, family breakups create statistical illusions of falling income. When a household has two $50,000 wage earners, it gets counted as one $100,000 household. When the family breaks up, suddenly there are two $50,000 households, even though no individual's income has changed.

This matters a lot. For example, between the years 1996 and 2005, according to U. S. census data, the median household income (after adjusting for inflation) rose only 5.3 percent. But if you correct for changing household sizes, the increase was a far more substantial 24.4 percent.
The gross domestic product, or GDP, is the most frequently reported measure of general economic well-being. As such, it has some obvious deficiencies. It counts the value of all goods and services produced in the economy, but not the value of time spent relaxing on the beach.

It also has some less obvious deficiencies. First, it really doesn't count the value of all goods and services produced in the economy. Many goods and services are produced within the household. Whether you wash your own dishes or pay a maid to wash them, the net benefit is a cabinet full of clean dishes. If you pay the maid, the GDP reflects this benefit; if you wash them yourself, it doesn't. ...

This observation is particularly important when GDP is compared across countries. In less developed countries there is usually more household production and consequently a greater discrepancy between reported GDP and actual output. When you read that per capita GDP in the United States is over 100 times as great as it is in Liberia, remember that people in Liberia grow their own food and make their own clothes and get no credit for it in the national income accounts. They are much poorer than we are but not as much poorer as the statistics seem to indicate.

Another deficiency is that increased output of goods and services can be either a good or a bad thing. A construction boom that creates thousands of desirable new houses is a good thing; a construction boom that replaces thousands of old houses destroyed by a hurricane consists of running as fast as possible just to stay in one place. The GDP counts them equally.
From "Cursed Winners and Glum Losers"
It is a fair assumption that people who run auctions for a living know what they are doing, and that if there is some discrepancy between their behavior and the prescriptions of the economic theorist, then it is the theorist who is missing something. Our job as economists is not to tell auctioneers how to run their business. It is to assume that they know how to run their business and to figure out why their strategies are the right ones. [emphasis mine]
Amen! I'd say that applies to more professions than auctioneering, and more experts than economists. Think teachers/educational theorists, or parents/child psychologists, for example.
More Sex Is Safer Sex
Table of Contents
Preface: Unconventional Wisdom
PART I: The Communal Stream
More Sex Is Safer Sex
Addendum
Be Fruitful and Multiply
What I Like about Scrooge
Who's the Fairest of Them All?
Children at Work
PART II: How to Fix Everything
How to Fix Politics
How to Fix the Justice System
How to Fix Everything Else
How to Fight Fires
How to Fight Crime
How to Prevent Accidents
How to Fight Pollution
How to Solve the Kidney Shortage
How to Fight Grade Inflation
How to Shorten Waiting Lines
PART III: Everyday Economics
Go Figure
Oh No! It's a Girl!
The High Price of Motherhood
PART IV: The Big Questions
Giving Your All
A Defense of Pure Reason
The Central Banker of the Soul
How to Read the News
Racial Profiling
Disaster Relief
The Sack of Baghdad
Global Warming, Local Crowding
An Outsourcing Fable
The New Racism
Matters of Life and Death
Things That Make Me Squirm
Appendix
From "Be Fruitful and Multiply"
For many of the comforts we enjoy today, we can be grateful to the inventors of cable television, video recorders, and the personal computer—and to the stroke of good fortune that prevented their parents from joining Zero Population Growth.

The engine of prosperity is technological progress, and the engine of technological progress is people. The more people, the more ideas. The more ideas, the more we prosper.
Some families prefer to have wealthy descendants; others prefer to have lots of descendants. But as long as our choices don't impinge on each other, that's not a policy issue; it's an opportunity to celebrate diversity.
In the 1930s, we had a Great Depression, when income levels fell back to where they'd been about twenty years earlier. For a few years, people had to live the way their parents had always lived—and they considered it almost intolerable. The underlying expectation—that the present is supposed to be better than the past—is a new phenomenon in history. ...

Not only are we richer than ever before, we also work less and have better-quality products. One hundred years ago, the average American workweek was over sixty hours, today it's thirty-five. One hundred years ago, only 6 percent of manufacturing workers took vacation; today it's 90 percent. One hundred years ago, men entered the full-time labor-force in the early teens; today labor-force participation by young teenagers is essentially zero. One hundred years ago, only 26 percent of male workers retired by age 65; today over 80 percent of 65-year-old males have retired. One hundred years ago, the average housekeeper spent twelve hours a day on laundry, cooking, cleaning, and sewing; today it's about three hours. ...

Today in the United States of America among the very poorest of the poor—those with household incomes under $15,000 a year—99 percent have refrigerators (83 percent of them frost-free); 64 percent have air-conditioning; 97 percent have color TVs and over two-thirds have cable; 60 percent have washers and dryers. ...

The probability that a 20-year-old has a living grandmother today is higher than the probability that a 20-year-old had a living mother a hundred years ago.

The moral is that increases in measured income—even the phenomenal increases of the past two centuries—don't accurately reflect improvements in our economic condition. The average middle-class American might have a smaller measured income than the European monarchs of the Middle Ages, but that does not prevent the American from leading a more luxurious life. I suspect that Henry VIII would have traded half his kingdom for modern plumbing, a lifetime supply of penicillin, and access to the Internet.
From "Children at Work"
Dr. David Livingstone, the African explorer, medical missionary, and hero of the Victorian Age, began his career at age ten, working 84-hour weeks at the local cotton mill. In other words, his was a rather typical upbringing for a British child in the 1820s.

Dr. Livingstone, we may presume, would have been rather bemused by modern American college students, with PDAs in their pockets, iPods on their hips, and $20,000-a-year educations [feel free to substitute your own updated examples] on their résumés, gathered on campus to share a keg, toss a few Frisbees, and raise their voices in the annual spring ritual of protest against third-world child labor.

The student protesters' message to African children on the edge of starvation comes down to this: kick back, relax, and take life a little easier. That, after all, is the content of the protesters' call for trade agreements that "protect" third-world children by limiting the number of hours they can work and the environmental conditions they can work in. David Livingstone, whose childhood labor financed his medical education, and who genuinely cared about the welfare of Africans, might have advised them differently. ...

People in the third world are poor; they're about as poor as the English and Americans of the mid-nineteenth century. Being poor means making hard choices, such as whether to work more or to eat less. Neither alternative is terribly palatable, but it requires more than a bit of hubris to suggest that middle-class American and European demonstrators can choose more wisely than the African and Asian families who have to live with the consequences. ...

The question, then, is whether third-world parents really do have their children's best interests at heart. The answer seems to be yes. Multiple studies have shown that in developing countries, most parents take their children out of the labor force as soon as they can afford to. ... When decisions are made by people—in this case loving parents—who have to endure the consequences, there's rarely any basis to override them. This is particularly so when those who would override have exactly zero experience with similarly dire conditions. [my emphasis]
From "How to Fix Everything"
When were you last bumped from an overbooked airplane? It used to happen all the time—until an economist named Julian Simon came up with the crazy idea of bribing passengers to give up their seats. Gone are the days when you relied on the luck of the draw to make it to your daughter's wedding.

In those same bad old days, African elephants were hunted almost to extinction. Hunting bans never had much effect against determined poachers—until Zimbabwean officials came up with the crazy idea of giving the elephants to rural villagers. Unlike the poachers, who would poach and then move on, the villagers know that the elephants they preserve today will still be theirs tomorrow. So unlike the poachers, the villagers harvest at a sustainable rate—and make it their business to drive the poachers away. The result? Villagers have prospered and the elephant population has soared.
From "Giving Your All"
American corporations are essentially immune to charitable impulses. This is for the good and sufficient reason that stockholders don't want corporate executives to choose their charities for them. You hire a tailor to make your clothes, you hire a carpenter to fix your roof, and, if you're a stockholder, you hire executives to run your company. Your tailor, your carpenter, and your executives might be very good at what they do, but it doesn't follow that they'd also be good at figuring out how to give away your money.

So, for the most part, corporations eschew charity completely. Instead, they truckle to the public-relations circus known as the United Way.

Nothing could be less charitable than giving to the United Way. Among the several dozen agencies that receive United Way handouts, surely you can identify—with essentially zero effort—at least one that, according to your own beliefs and values, will make better than average use of an extra dollar. ... Allowing the United Way to split your contribution among thousands of less-worthy causes is the very opposite of charity. Your employer's public-relations department might love you for it, but you purchase that esteem by diverting resources away from the worthiest recipients, a complete perversion of what charity is supposed to be about.
From "Things that Make Me Squirm"
Most of the time, we're not forced to choose between prosperity and economic freedom, because the two go hand in hand. Canada's Fraser Institute, in cooperation with several dozen think tanks around the world, assigns each country an economic freedom rating from 1 to 10. High ratings go to countries with limited government, low taxes, well-enforced property rights, functioning markets, and free trade. Currently, Hong Kong ranks first, followed by Singapore, and then we have a three-way tie among New Zealand, Switzerland, and the United States. Myanmar brings up the rear. ...

The general upward trend [of a scatter plot of economic freedom versus per capita income, with each dot representing a country] is obvious. Of course, that doesn't prove anything about causation, but it's awfully suggestive—and we have plenty of theory to support that suggestion.

Incidentally, if you carry out the same experiment with political freedom—including scheduled elections, robust opposition parties, freedom of speech and religion, and so forth—on the horizontal axis, the dots look almost completely random. Political freedom is, in my opinion, a good thing, but unlike economic freedom it seems to have almost no link to prosperity.