Despite my firm intentions to capitalize on the need to stay at home, I have not recently been accomplishing much. The world has been turned upside down and I'm finding it hard to stay focused on anything. On top of my own frazzled state, interruptions from distant family have greatly increased. They're all distant at this point—and that's harder than usually to take because in just one week we were supposed to have begun to gather most of them together here! The interruptions are most welcome and most treasured, but it's hard to work when every call, every text, every e-mail, every WhatsApp, every form of contact suddenly feels urgent.
I was at sixes and sevens all yesterday, but I made a concerted effort to have one finished task I could point to at the end of the day: I made barbecue sauce.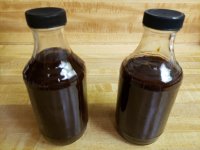 For years our favorite barbecue sauce was Jack Daniel's Original Old No. 7. But for months now I haven't been able to obtain it, and I became determined to make something similar of my own. Inspired by discovering the remains of a bottle of Scotch whiskey in our cupboard, I decided that yesterday would be the day. It was Cutty Sark, not Jack Daniel's, but I will hereby shock and alienate all aficionados by insisting that "whiskey is whiskey."
I found several "Jack Daniel's Barbecue Sauce" recipes online, took what I judged to be the best of each one, added a few twists of my own, and cooked it up.
In testimony to my frazzled state, it took me two tries. I hadn't gotten very far on the first one when something interrupted, and it ended up burning on the stove, making an awful mess of the pan.
After some extensive clean up work, I was able to see Try #2 through to the end.
Oh, was it delicious! Yes, I do say so myself. I think that even if I do find the commercial kind again, I won't look back. This is 'way better. The flavors bring to mind—of all things—the description in C. S. Lewis' Screwtape Proposes a Toast of devil's wine made from "vintage Pharisee": Look at those fiery streaks that writhe and tangle in its dark heart, as if they were contending ... forever conjoined but not reconciled. The flavors mingle without blending. It's sweet and sour, salty and smoky, smooth and rich with a bit of fire. No one impression dominates; each takes its turn coming to the forefront.
Whiskey Barbecue Sauce

1/2 cup plus 1 - 2 tbsp whiskey
4 cloves garlic
1/2 cup onion
2 cups ketchup
1/3 cup white vinegar
3/4 cup molasses
1/2 cup brown sugar
1/4 cup tomato paste
3 tbsp Worcestershire sauce
1/2 tsp smoked Spanish paprika
1/2 tsp hot paprika
1/2 tsp freshly ground pepper
1/2 tsp Kosher salt

Put both garlic and onion through a garlic press. Add with whiskey to a medium saucepan and heat gently for about five minutes.

Combine remaining ingredients, mix well and add to saucepan. Bring just to a boil, then reduce heat and simmer for 20 minutes or so.

Stir in remaining whiskey and simmer for another five minutes. Bottle when cool, and refrigerate.
Using the garlic press on both the garlic and the onion was my idea, and I think it works well. The sauce ended up silky, with no blending necessary.
Initially I resisted using ketchup, figuring that I ought to be able to make the sauce from tomato paste alone. But all the recipes I consulted used ketchup, and the clincher was that my tomato paste stock was low and we had lots of ketchup. Since ketchup is pretty much a staple around here, why not use it?
None of the online recipes call for smoked Spanish paprika and hot paprika; Liquid Smoke and bottled hot sauce seem popular. I used what I had hanging around, and am pleased with the result. I suspect there's a fair amount of flexibility here if you can't get the named ingredients. If Worcestershire sauce is unobtainable, for example, try a dab of anchovy paste or some fish sauce.
Enjoy!