Oh, Facebook, when am I going to totally give up on you?
It's the people who keep me going there, albeit in a much-reduced state. People for whom Facebook is the best way to keep in touch. They're worth it.
Then again, maybe I stay there for the amusement, too.
First, Facebook took down my 9/11 tribute post on the grounds that my image of Osama bin Laden violated their community standards. Now, I've done it again.
They didn't actually remove my comment (at least not yet), but they did give me this warning: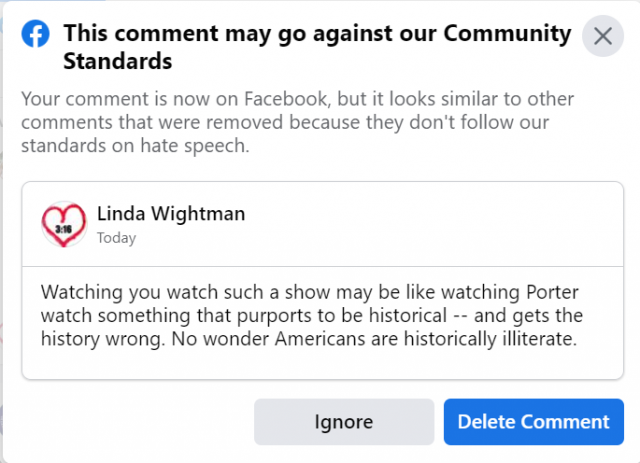 (I made the comment to the post of a friend, a very knowledgeable gun-collector, in which he expressed his annoyance at TV shows and movies that "portray firearms with unlimited capacity and no reloads.")
So tell me, Facebook—where in my comment is anything resembling "hate speech"? Do you think it's hateful to call Americans ignorant? Or to imply that Hollywood takes liberties with the truth?
That was my ironic laugh for the day. Good night all. Sweet dreams.