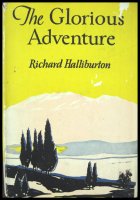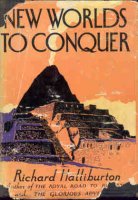 The Glorious Adventure by Richard Halliburton (Garden City Publishing, 1927)
New Worlds to Conquer by Richard Halliburton (Garden City Publishing, 1929)
Last year I reviewed Richard Halliburton's The Royal Road to Romance. I read The Glorious Adventure soon thereafter, and finished New Worlds to Conquer just now.
In The Glorious Adventure, Halliburton describes his efforts to recreate The Odyssey, following the trail of Homer's hero, Ulysses. New Worlds to Conquer is set in Latin America, from Mexico to Argentina, and is my favorite of the three, probably because it is the only one I remember reading as a child. I'm not good at remembering the content of books that I've read, and the rest of New Worlds was foreign to me on re-reading, but I've never forgotten that Halliburton swam the Panama Canal from one ocean to the other, including through all the locks. I particularly remembered that when asked how he proposed to meet the lock fees, he replied, "Just as the other ships meet it, sir. I'd pay according to my tonnage." It cost him thirty-six cents.
There is an inscription in New Worlds to Conquer indicating that it was a gift to my father from his parents. I wonder how young he was when he received it; he was eight years old when it was published.
What I wrote about The Royal Road to Romance is equally true here.
Halliburton's life is not one to be emulated—he died at 39 attempting to cross the Pacific in a Chinese junk—and his stories have a light-hearted amorality about them that can be a little disconcerting, as can the racial attitudes and language of the time. But understood in context, I think this would be a good book for older grandchildren.
There is a good deal of history, geography, and literature woven throughout Halliburton's books, but the educational value does not detract; indeed, it adds much to the adventures. And adventures they are. Halliburton is a poster child for what can be accomplished through guts and gall. A man who doesn't hesitate to throw himself 70 feet into the Mayan Well of Death at Chichen Itza—twice—and voluntarily gets himself incarcerated with France's most notorious prisoners in its even more notorious prisons off the coast of French Guiana, is not likely to live a long life. Halliburton lived only four years longer than Mozart, but like the composer, his accomplishments in those years were prodigious.
I wonder what the Richard Halliburtons of today are doing? The world was looser back when he had his adventures. From Angkor Wat to Machu Picchu, he climbed all over the wonders of the world, and experienced them in solitude. Now there are fences, and guards, and rules—and a very good thing, too, given the hordes of tourists who now descend. But the discovery of Machu Picchu was less than 20 years old when Halliburton visited, and very few tourists would go through what he did to get there.
A careless disregard for personal safety, a rejection of traditional responsibilities, a burning internal drive, and a charming personality can be a recipe for a totally selfish life. But timid folks like me are awed by how much such boldness can achieve.