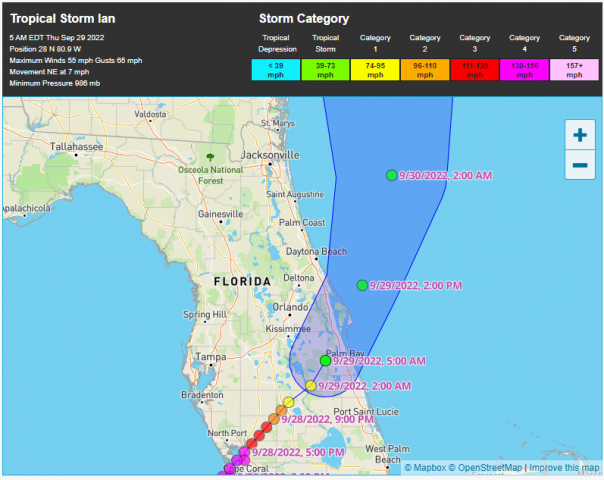 Ian is now officially a tropical storm. It has passed southeast of us, but still hasn't reached the coast; it's creeping along at 7 mph. "Passed" is perhaps not the right word, because this morning we are experiencing the same winds and rain we had all night. We are officially under a "tropical storm warning" instead of a "hurricane warning," but only the name has changed.
It wasn't the most peaceful of nights, but that doesn't stop us from being grateful for what sleep we had. Quick checks in the middle of the night and this morning revealed no obvious damage inside, and what little we could see of the outside (in the dark, from inside) looked pretty good. All night we heard the sounds of small branches landing on our roof; we learned long ago that they sound a lot bigger than they really are. Waving tree branches frequently set off our neighbors' motion-sensor floodlight, waking us up to let us know we still had power—not altogether a bad thing. And we received full assurance that our weather radio works just fine, producing a sound piercing enough to wake us thoroughly.
I would, however like to make a few suggestions for the service's software. (1) It is not really necessary to wake us at 3:17 to inform us of a flash flood warning until 6:15 a.m., then again at 3:25 to extend the warning to 6:30, then at 4:50 to let us know it's now in place until 6:45, and at 5:42 extend it to 8:15, and at 5:51 to tell us that the endpoint is still 8:15. We know it's going to be like that all morning; why not just say "till noon" and be done with it? (2) We want to know upgraded warnings (e.g. tropical storm to hurricane, or watch to warning) right away. Feel free to wake us up. But if you're downgrading the warning (e.g. hurricane to tropical storm), that news can wait till most people are awake.
At the moment, we still have power, for which we are beyond thankful. There are a lot of people nearby who don't, however, and we remember that with previous hurricanes, the outages have come after the storm has passed. So we remain hopeful, but cautious.
What we don't have is internet. I'm posting this while using my phone as a mobile hotspot. Spectrum says, "An outage is affecting your Spectrum services. We're working quickly to restore your service." That notice hasn't been updated since eight o'clock last night, however.
We did get an update last night about our Cape Coral folks: significant damage to yard and porch, but the house was okay and so were they.
One of the newscasters we heard yesterday emphasized the importance of helping children feel a sense of adventure during events like this, rather than overwhelming them with adult concerns. He's right. It's up to the adults to model the calm reactions and coping skills that build resilience in children. When I was growing up, blizzards and winter power outages were fun! Clearly not for my parents, who had to deal with keeping the family safe and warm, cooking on a camp stove, worrying about frozen water pipes, and cleaning dirty cloth diapers. But they made it an adventure for us.
We remain grateful for your prayers, and to all those who expressed concern for our well-being. So far, so good.