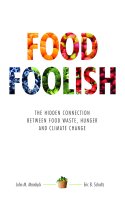 Food Foolish: The Hidden Connection Between Food Waste, Hunger and Climate Change by John M. Mandyck and Eric B. Schultz (Carrier Corporation, 2015)
Have you ever heard of a cold chain? Me, neither. Yet we have depended on cold chains all our lives. If you don't drink your milk as it comes from the cow, then your life depends its being kept cold, whether it goes straight from the cow to your refrigerator, or travels thousands of miles in a refrigerated truck before being placed in the refrigerated dairy section of your grocery store. That vaccine your child just received? Useless, if it hasn't been kept sufficiently cool on its way from the manufacturer. Unless they're kept cool, fruits and vegetables start rotting the moment they're picked, losing flavor and nutrition, eventually becoming unusable.
The cold chain explains why the Carrier Corporation published Food Foolish. Keeping things cool is their business, and they've made it their business to develop sustainable technologies to do so. Along the way, they discovered a shocking truth: At least a third of all the food we produce in a year is never eaten.
The impact of food waste on hunger, climate change, natural resources and food security is enormous. It's changing the way we think about our product and technology development. It's strengthening our commitment to sustainable innovation. It's also prompting us to convene research and food chain experts to find solutions. We believe that food waste is an issue that must be elevated and examined globally. That's why we published Food Foolish. It's not an attempt to be the final word on the topic of food waste. Rather, it's meant to connect the issues of hunger, resource conservation and climate mitigation. We hope it will be a catalyst for more meaningful global dialogue which, many think, is essential to the sustainability of the planet.
That's why Carrier published the book. What do the authors say about why they wrote it?
Hunger, food security, climate emissions and water shortages are anything but foolish topics. The way we systematically waste food in the face of these challenges, however, is one of humankind's unintended but most foolish practices. We wrote this book to call attention to the extraordinary social and environmental opportunities created by wasting less food. We are optimistic that real solutions to feeding the world and preserving its resources can be unlocked in the context of mitigating climate change.
Food Foolish is a small book (182 pages) but very powerful. We're reasonably conservationist-minded around here, having been brought up that way. I feel pretty good that we put very little trash out on solid-waste pickup day, and the reason there's not usually much in our recycling bins is that we consume far less soda and beer than average. We take short showers and are in other ways mindful of our water use. Except for animal products, almost all of our food waste goes to feed our composting worms.
Ah. Our food waste. That broccoli that got shoved to the back of the refrigerator and forgotten? It fed the worms, so it's all good. Or maybe not....
When we consider ways to protect our fragile water resources, we need to look first and foremost at the global food supply chain. California provides one good example. The state produces nearly half of all U.S. fruits, vegetables and nuts from the very areas hardest hit by drought. Monterey County alone produces about half of the country's lettuce and broccoli.

Now imagine a consumer rummaging around in the back of his refrigerator's vegetable drawer only to find a forgotten head of broccoli, now yellow and unappetizing. He drops it in the trash. No big deal, right?

But wait: Fresh broccoli is about 91 percent water, and that's just the start. It actually takes a farmer about 5.4 gallons of water to grow that single head of broccoli. Just as each food product has an embedded carbon footprint, it also has a quantity of embedded freshwater from its journey along the food supply chain. In fact, a single person blessed with a healthy, nutritious diet will drink up to a gallon of water per day but "eat" up to 1,300 gallons of embedded freshwater in his food.
This little book stuck a sharp pin in my pride. Sure, it's better that the worms ate our spoiled broccoli than if it had gone into the landfill. But it was still a terrible waste. There's a lot more cost to producing food than what we see at the cash register. Water, fertilizer, pesticides, depletion of the soil, labor, storage, transportation—the human and environmental costs of that head of broccoli make it far too costly to become mere worm food.
Food waste also has a devastating impact on the environment. The water used to grow just the food we discard is greater than the water used by any single nation in the world.
[I]f food waste were a country by itself, it would be the third largest emitter of greenhouse gases behind China and the United states. Yet the connection between food waste and climate change is missing from policy discussions and public discourse.
Throughout history, human ingenuity has consistently foiled those who prophecy imminent doom in the form of mass starvation. Thomas Malthus (in 1798) and Paul Ehrlich (in 1968) both assured us that population growth inevitably leads to massive famine. Ehrlich specifically predicted that no matter what we tried to do about it, hundreds of millions of people were going to starve to death in the 1970's.
Fortunately, both Malthus and Ehrlich were wrong. Since The Population Bomb was published in 1968, the world's population has doubled to over 7 billion people. Despite this increase, humankind has managed to grow its food supply faster than its population. Eighty percent of the victims of famine in the last century died before 1965. Since the mid-20th century, famine has been more a function of civil disruption than of limited food supply.
The Green Revolution spiked Ehrlich's misanthropic guns, but the concern is back, and with reason. Dependent as it is on oil-based fertilizer, irrigation, and monoculture crop farming, the Green Revolution in its original form is not sustainable. A different kind of agricultural revolution is needed.
The political will exists to improve upon the gains of the Green Revolution, bu the landscape has changed. While the focus remains on alleviating chronic hunger, there has emerged a fundamental understanding that simply expanding farmland and improving crop yields are insufficient to feed a growing planet. Any new solution must be sustainable. ... Observers agree that if humankind wants to engineer a new "miracle" to help feed our growing planet, it must be fundamentally different in shape and substance from the Green Revolution of the 20th century.
Enter food waste awareness. By the numbers, if we could eliminate food loss altogether, we could increase our food supply by 50 percent! In the real world, complications must enter the equation; even so, reduction of food loss and waste is an area of tremendous potential for feeding the world while healing the environment.
Food Foolish covers a lot of ground, and if you like concrete information densely but attractively presented, you'll be happy. (If you're fond of Oxford commas, you will be less pleased, but their lack is not as obvious when reading as it was to me when typing up the quotations below—and having to backspace again and again to remove the comma that my fingers automatically insert when typing lists.) Yet the authors cannot cover everything, which I remind myself when I consider issues of corruption, abuse of power, and even bloated bureaucracy that keep food from reaching the hungry. As the International Justice Mission has noted, we can provide people with food, skills, books, schools, medical supplies, tools, seeds, and even land, but without honest and functional political and legal systems, they won't be able to hang onto them. Clearly the problems of hunger, resources, and the environment must be tackled on many fronts.
Fixing the global food supply chain requires investment. ... Sometimes the humanitarian return of "doing good" is enough; certainly governments spend simply for the good of their citizens. Other times a true financial return is required to persuade people to act, especially in the private sector. The moment those two returns intersect is a moment of critical mass, when doing good and doing well align, rapidly accelerating innovation and new investment.

There is precedent for this kind of global alignment. In 1993 the U.S. Green Building Council was formed to promote sustainability in building design, construction and operation. At the time, green investment seemed expensive and was misunderstood. "Prior to the U.S. Green Building Council," remembers Rick Fedrizzi, CEO and founding chairman, "Environmental organizations and business lined up against one another. What we did at USGBC was to create a place where business could actually engage one-on-one with environmental and government organizations. By having a voice and a pace at the table, some of the best ideas imaginable have come forward."

...

The global green building movement began as a way to protect the planet and "do the right thing." Today it has become a business imperative that drives real financial return, including significant improvements in tenant occupancy and retention with higher rents and overall building value.
One of the strengths of Food Foolish is its emphasis on positive actions more than blame, and its revelations of the global nature of both the problem and the solutions: everyone has a part to play. Half of all global food loss occurs in Asia, and there's much that can be gained from solving the problem there. But ...
What does food loss look like per person? On a per capita basis, Europe, North America, Oceania and Industrialized Asia waste between 300 and 340 kg of food per year. South and Southeast Asia, despite high absolute waste, have among the smallest per capita at 160 kg. In addition, in medium- and high-income regions, most waste occurs at the end of the supply chain when food is discarded by consumers and retailers. This means that energy inputs such as harvesting, transportation and packaging are embodied in the food. For example, if we must waste a tomato, it's relatively better to have it decompose in the field rather than pick, clean, pack, cook, ship and display it at retail, only to have it thrown out by a consumer.
There are two very different kinds of problems associated with food loss and waste. One is structural in nature: bad weather, poor roads, improper packaging and an inadequately refrigerated distribution system. Many of these issues can be addressed through careful planning, poliitcal will and sufficient investment. And then there are problems taht are economic and cultural in nature, powerful forces almost built into the system. Food too expensive to be purchased will rot in the warehouse. Food too unprofitable to harvest will be lost in the field. Meal servings that are twice what a person can eat will be partially discarded. A perfectly edible apple with harmless spots or a misshapen carrot might be tossed in a landfill if there are cheap and perfect alternatives. The elements of supply and demand, pricing, tradition and culture all play an important role in food loss and waste. Most of all, ... [it is] clear that there are challenges and opportunities enough for the entire global community.
Developing nations can have the greatest impact on food loss, hunger, land use, climate change, and ... freshwater by focusing on upstream improvements—harvest and distribution—in the food supply chain. Developed countries need to emphasize reductions in downstream food waste.
And now for the random quote section you all look forward to. I warn you that it's just a taste of the book and I've left a lot of important stuff out. (More)