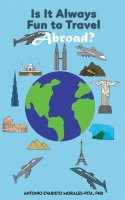 Is It Always Fun to Travel Abroad? by Antonio Evaristo Morales-Pita (Austin-Macauley, 2021)
I wasn't happy to discover that Porter had bought this book.
We were in Chicago, worshipping at the wonderful church of our former rector. After the service, the author approached Porter, engaged him in conversation (normal for after a church service) and pressured him to buy his new book (not normal).
Having bought it, I figured we ought to read it, but I was not looking forward to the experience. Much to my surprise, I actually enjoyed it—enough that I figure it's worth a review.
The author was born in Cuba, lived there through Castro's revolution and long afterwards, and eventually ended up an American citizen. Whenever and wherever he was, he travelled as much as he could. He speaks several languages and if he didn't come anywhere near visiting every country in the world it wasn't for lack of trying. In this book he briefly describes some of the major events of his life, and the places he visited, including his recommendations of what to see and do.
Is the book well-written? Frankly, no. The author's English isn't as good as it might be—what works really well for speaking does not always translate well to writing. I also found it too egotistical for my taste. In short, the book is a walking testimony to the importance of editors in the world of publishing. More than anything else, the book sounds to me like a personal blog.
But I like reading blogs. I write a blog. I like the writing of ordinary people telling their own stories, and I don't hold them to the highest publishing standards.
You can get your own copy of Is It Always Fun to Travel Abroad? on amazon.com for less than $4. Let me just say that we vastly overpaid for our copy. On the other hand, we do have an autographed edition. :) And it is fun to read about the author's travels abroad and to get his perspective on places and events.