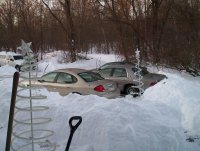 Apparently Florida has been having its longest streak of cold weather ever, worse than that in the mid-1980s, which (along with predatory developers) killed off the Central Florida citrus industry. I was unaware of the records being set, as we returned after the cold spell was well underway, having spent nearly a month in the Northeast, where we experienced single-digit temperatures, played hockey on a local pond, and shovelled 2.5 feet of snow.
The neighbor who picked me up at the bus stop had kindly warned me that it was cold, but with a long-sleeved turtleneck shirt, my warm
Westtown
sweatshirt, and a heavy coat (with hat, gloves, and scarf if necessary), I figured I was prepared for anything Florida had to offer. And I was.
(More)