We slept well until 4:30 a.m. That sounds early, but it's not unusual for us to start the day ony an hour later. Not bad at all, considering Hawaiian clocks—in the summertime—are six hours skewed from Florida's.
(My current approach to combatting jet lag is to sleep as much as possible on the plane, but not to make an effort to sleep. Once upon a time I acted as if I could get a full night's sleep on an overnight flight: brushing my teeth, wearing eye covers, and settling down as much as is possible in a coach-class set, with a pillow and a blanket. After several flights with marginal success at best, I decided to ignore my watch altogether. After boarding, I settle down to enjoy myself, usually with a book or my World of Puzzles magazine. I'm at the stage of life where it's easy to doze—actually, I've been at that stage for at least 40 years—so when I feel sleepy, I set the book down and allow myself to snooze. I rarely even bother to take off my glasses; I just lean back and sleep. When I wake, I pick up where I left off and begin the cycle again. I find this much more satisfactory, because I'm no longer annoyed by announcements, food carts, or neighbors who must get out of their seats. If they wake me up, they've only disturbed a short nap, not my "night's rest." I no longer worry that I'm "supposed" to be sleeping. I enjoy the flight more, and adjustment to the new time schedule comes more easily.)
We would have liked to make a faster start to the day, but had a morning appointment with our "personal concierge," who would help us plan our week, including the mandatory timeshare presentation. She was actually very helpful, with useful suggestions for places to stop on our around-the-island tour. She was also able to reschedule our presentation, which had originally been placed in the middle of the day, a most annoying and wasteful time.
The first meeting accomplished, we headed out of the Hilton property to the shopping/restaurant area at the entrance to the resort. (The resort is more than the Hilton sites, although they constitute a large part of it.) There we made a breakfast of "Japanese Tempura Style Fish and Chips" (and shrimp). Delicious!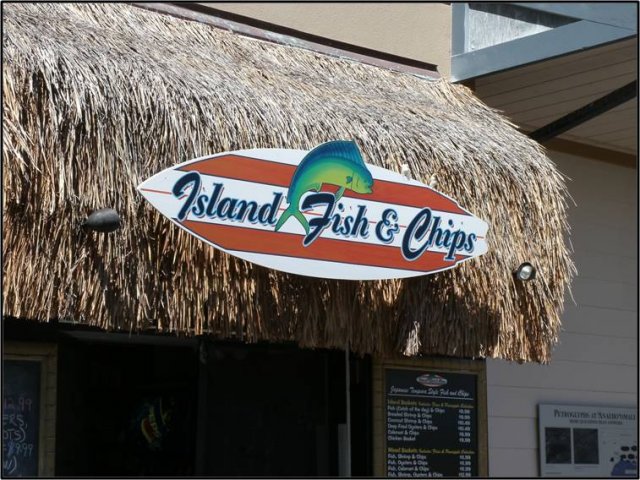 Unless you consider fish & chips for breakfast a bit odd, there was nothing about its onset to indicate how incredible this day would be. (More)