It wasn't the Christmas they expected.
The shepherds weren't expecting anything. The Wise Men (who came later) might not have been surprised that the king they were seeking was a young child, but they probably didn't expect to find him in such humble surroundings. Herod wasn't expecting him, though he certainly knew how reigning kings dealt with potential rivals: Off with their heads!
Mary (and Joseph) did know, having been clued in by an angel, but I'll bet Gabriel didn't bother to include the messy details, such as going into labor away from home, at the end of a long and difficult journey to a crowded city with limited accommodations.
Despite innumerable clues throughout their history to the coming of a savior who would put everything right—albeit less clear at the time than in hindsight, of course—the religious scholars in Israel saw nothing momentous about the events. This despite having told the above-mentioned Eastern sages that they should go to Bethlehem to look for the Messiah. As was shown some 33 years later, their ideas of "put everything right" had some major misalignments with God's own; we tend to see what we are looking for.
There's a long history of Christmas not being what people expect, so I should not have been surprised that Christmas 2021 wasn't the Christmas WE expected.
In this year's Christmas newsletter, I included this line: "Sub conditione jacobaea, we will make a fifth trip, to Connecticut, before the end of the year for another family gathering." The Latin phrase is the more formal equivalent of the Southern, "Lord willin' and the creek don't rise."
The creek rose. Or rather, COVID rose. As in, two of the people we'd planned to spend Christmas with tested positive. We reflected: (1) people who are sick do not generally welcome houseguests, (2) if one is going to get sick, home is usually the best place to be, and (3) the threat of isolation and quarantine could turn a 10-day visit into 20 or more, especially if one is flying. Then we made the painful decision to cancel the visit. :( Instead of flying out early Christmas morning, we were going to be home.
Two days before Christmas I crossed "pack suitcase" of my list and added "buy a roast for Christmas dinner." We did not have a tree, but I stopped by the Home Depot tent and picked up some of their tree trimmings to add some festive and aromatic greens to our hastily-decorated substitute: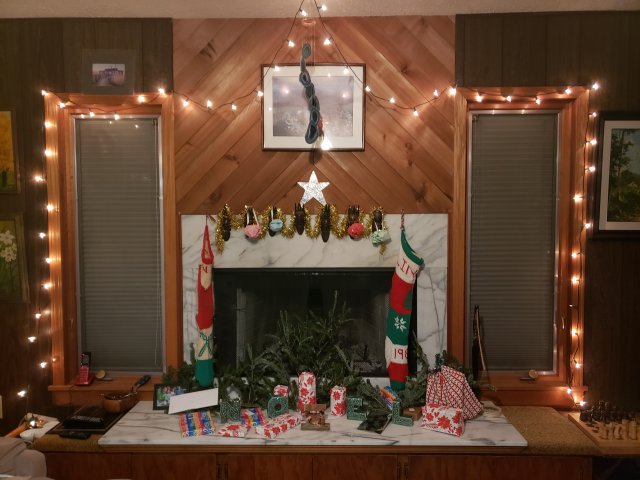 I only drove to three places that day—the post office, Target, and Publix—but came home exhausted. As I said to Porter while he was helping me unload the car, "You'll know how crowded it was when I say I elected to wear my mask everywhere I went."
Christmas Eve wasn't as planned, either, as our pastor's wife had also come down with COVID. The CDC protocols do not require vaccinated people to quarantine, but our diocesan rules are stricter, so he was suddenly out of the picture, which cancelled some of our services and altered the others. Amazingly, they found a substitute priest for Christmas Eve and Sunday, though not for Christmas itself. Nonetheless we are grateful that the bishop didn't revoke his permission for choirs to sing without masks! All things considered, it was still a lovely service, though for us the really festive celebration had been our mid-month Lessons & Carols. (Too many of our choir members travel out of town for Christmas, for us to be able to plan anything big closer to the Day.)
Since the Christmas Eve service began well after my normal bedtime, and, unlike last year we had no children around to inspire an early arising, we slept in on Christmas Day (That is, to about 7 a.m.).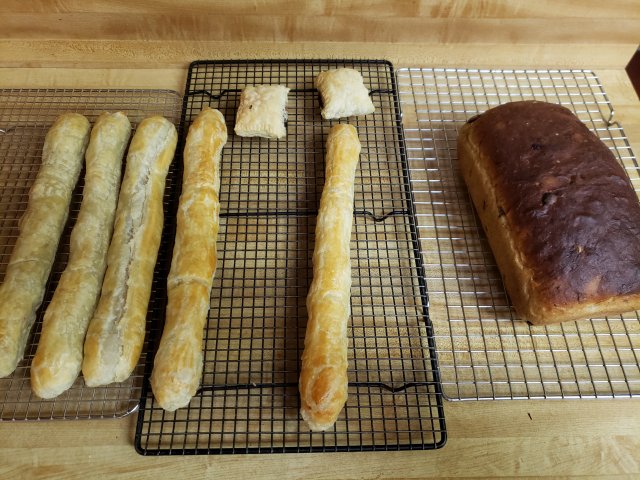 Our Christmas breakfast usually includes traditional Dutch almond raisin bread and banket. Often we order these from Vander Veens' Dutch store, but this year I convinced myself that it's cheaper and better to make them myself. (I was right.) I did buy the almond paste from Vander Veen's (much less expensive than I can find at the grocery store), but our grandson makes his own from scratch, so I might try that sometime. I doubt I'll go through the effort of making my own puff pastry, however; Pepperidge Farm does a great job with that.
No one complained that the "banket letters" were selfish this year—all I's.
The day was a quiet one, spent opening presents, talking with family, and reading. Porter read one of my Christmas present books, and I continued reading Oathbringer, which I intend to complete before the Twelve Days are over! (I'm currently 2/3 of the way through the 1200+ pages.) I did manage to cook Christmas dinner in there somewhere, and it was good (especially the gravy), but I couldn't help noting that it didn't hold a candle to my brother's Christmas roast beef, which we had been anticipating.
The Second Day of Christmas was Sunday, and we went to church. If attendance was about as expected for the day after Christmas, at least the choir did not outnumber the congregation. And we had enough choristers to sing Vivaldi's Gloria!
I hope you are all enjoying a very good Christmastide.
Even if it might not be the Christmas you planned on.