The other day we were told, by one whose buisness it is to predict these things, that no matter who wins the upcoming presidential election, our taxes are going up. He may be right. If they're serious about stimulating the American economy, raising American taxes seems a foolish approach, but the public keeps demanding more services, and there's always a bill for services rendered.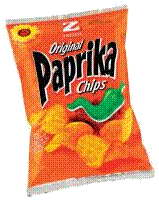 So I got to thinking, at lunchtime, as I munched on my barbecue potato chips, about Switzerland. They have some wonderful potato chips there, somewhat like our barbecue variety, but better—though that impression may have been due to Favorable Emotional Circumstances. One day I made a hasty stop at the grocery store and grabbed some food for a train trip, only to discover, too late, that I had paid over $5 for a medium-sized bag of chips!
The bag I was munching from was more than half again as large, and priced at $2.50. I actually paid half that; I generally don't by chips unless they're on sale. It occured to me that a price tag of $7.50 would be a significant deterrent; I would probably still buy them for very special occasions, but casual purchasing would defintely be out. Thus it would be in my best interest, health-wise, if the potato chip manufacturers decided to triple their prices. But they wouldn't do it. Without illegal collusion in the industry, competition would force the price back down immediately.
Unless the government stepped in. Imagine a $5/bag tax on potato chips; applied to all, no one manufacturer could undercut the market, and suddenly Americans just might start reducing their consumption. I only pick on potato chips because they are my own weakness, but let's not stop there: corn chips, soda, candy, cookies, Happy Meals—all those top of the food pyramid, artificial ingredient, and preservative heavy "foods" that make up so much of our modern diet and have nutritionists and health professionals wringing their hands.
Sin taxes have their problems, I know. The last thing I want to do is create yet another opportunity for organized crime to fluorish. (
Pssst! Wanna buy an Oreo?
) But it would be my favorite kind of tax: likely to provide significant income for the government, yet completely avoidable simply by eating as we know we should.