Last Sunday we might almost have been on vacation, with visits to one church, two art museums, and a restaurant. Double or triple the number of churches and museums and we could have been back in Rome. Even the temperature was about right.
The church was our own Episcopal Church of the Resurrection. It has no great art masterpieces, but the building is really beautiful and we get to sing there. :)
The first museum was the Mennello Museum of American Art. It's one of our favorite little museums, perfect for a quick cultural break. This time we stayed a lot longer than we had expected. The current special exhibit (through November 7) is "Floating Beauty: Women in the Art of Ukiyo-e." I've learned through experience that art exhibits that make political statements are likely to be annoying, and worse, boring. That's what I expected here and I couldn't have been more wrong.
Here's the description of the exhibit, taken from the museum's website:
Examines historical perspectives on women and their depiction in art in Edo Period Japan (1615 – 1858). Made up entirely of woodblock prints created in the ukiyo-e style, this exhibition highlights female characters in literature, kabuki theatre, and poetry; the courtesans and geisha of the Yoshiwara district; and wives and mothers from different social classes performing the duties of their station, in order to gain some insight into the lives of women in pre-modern Japan.
The prints, on loan from the Reading Public Museum, were beautiful, and educational. Several were by Utagawa Hiroshige, recognizable because of the book of his art I created for our grandchildren back in 2015. Even though it does not depict women, the exhibit included one of the many prints of Katsushika Hokusai's The Great Wave off Kanagawa. This is from the artist's series, Thirty-six Views of Mount Fuji, and immediately brought to mind our visit to Janet in Japan, where we took a long walk to another small museum with great richness of art, including the Thirty-six Views.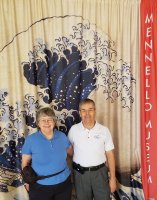 [Pandemic note: the website said we'd have to have our temperatures taken to enter the museum, but that wasn't true. They did, however, require masks inside.]
Our next visit was to the Orlando Museum of Art, across the street. Having been brought up on the Philadelphia Museum of Art, it has taken me a while to appreciate Orlando's, which, I'm sorry to say, tends toward art that is modern, infused with politics, and—as I said—boring. But every once in a while they have a major success in my book, and this was one of those times.
Two new exhibits opened September 25. There is no ending date posted on the museum site—it merely says "ongoing"—but both are on loan from elsewhere, and excellent, so be sure to check them out if you can.
The first exhibit we saw at the OMA was Treasures from the Museum & Gallery at Bob Jones University: Five Centuries of Old Master Painting. I had no idea Bob Jones had such treasure. This is such a change from what OMA usually has to offer! Another big plus for me was the excellence of the descriptions that accompany the paintings. All too often in American museums I find these commentaries to be poorly written: filled with spelling, grammatical, and compositional errors; sometimes, when it's a subject I know something about, even errors of fact. These were all I could want in that respect, and provided accurate explananations of both the Biblical/Classical context of the paintings, and the symbolism so often present in such works.
Van Dyke, Rubens, and Tintoretto are among those represented here. And also this, Carlo Dolci's Madonna and Child.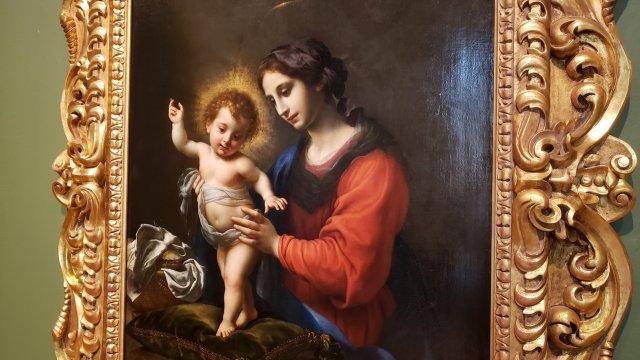 I wonder if anyone else in my family will do a double-take at Mary, as I did. You might want to click on the image to enlarge it.
The second special exhibit is Connoisseurship & Collecting: Masterworks of European Painting from the Muscarelle Museum of Art. More great masters, more excellent descriptions, definitely worth seeing. We could have spent more time with it, but we were tired out from the first two exhibits and hungry because it was now going on three o'clock. As we walked out of the museum, we paused to pay homage to their excellent collection of Louis Dewis works, now featured in a better place than the last time we were there.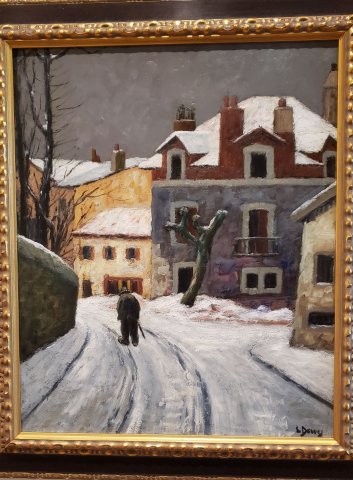 [Pandemic note: "Face masks are encouraged but not required." As usually seems to happen in these situations, people's mask use and non-use were regulated by some pretty good common sense.]
The final work of art? Avocado egg rolls at the Cheesecake Factory.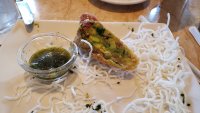 [Pandemic note: It's a restaurant; we were eating. The servers wore masks, and we didn't.]