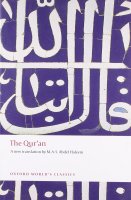 The Qur'an, English translation by M. A. S. Abdel Haleem (Oxford University Press, 2004)
In the most important sense, a holy book cannot be subject to review. It matters little whether or not I consider it holy; the fact that others do puts it in a different category of book. For one thing, one must take greater care than normal to be respectful; that is merely good manners. It also means that as a non-Muslim, I cannot adequately judge the Qur'an on the basis for which it was intended, that is, as spiritual guidance and inspiration for Muslims. And yet, just as there is value in reading the Bible as literature, I believe the Qur'an may profitably be read in the same way. Not to mention that it might be valuable to have at least some familiarity with a book that is so important to the two and a half billion or so Muslims around the world.
There is also the problem of reading a translation. To Muslims, as I understand it, the Qur'an is a holy book in a much more literal sense than the Bible is to Christians. That is, the book itself is holy, not just its contents. What's more, it is the Qur'an in Arabic that really matters, in contrast to the Christian idea that the Bible speaks best to everyone in his native tongue. While it is certainly instructive—essential for seminary students and scholars—to read the Bible in Hebrew and Greek, that is not considered a necessary skill for most Christians. For Muslims, however, you're not really reading or reciting the Qur'an unless it is in Arabic. I'm of two minds about this. On the one hand, it's a great unifying factor, as when Latin was essential in the Catholic church, when priests all over the world could understand each other, and the Mass was basically the same wherever you went. But there's no doubt that true understanding is difficult (impossible?) in a foreign tongue.
The Qur'an itself makes the point repeatedly that it is an Arabic revelation—though I can't resist mentioning that the point being made at the time was that it was in a language the ordinary people understood.
I don't have anything to compare it with, but I will nonetheless give high marks to this particular translation. It is not beautiful English, but it is easy to understand, and the translator has provided just the right amount of commentary, that is, enough to provide historical context and explain certain idioms and literary conventions, while not interrupting unduly the flow of the writing.
Despite all the above caveats, I'll share some of my observations, based on a single read-through: (More)