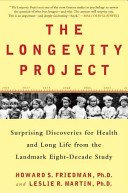 The Longevity Project: Surprising Discoveries for Health and Long Life from the Landmark Eight-Decade Study, by Howard S. Friedman and Leslie R. Martin (Hudson Street Press, New York, 2011)
In the early part of the last century, Dr. Lewis Terman began a long-term study of children identified by their teachers as particularly gifted academically. Although Terman was interested in intelligence and intellectual leadership, his study left behind a great collection of sociological data, which Friedman, Martin, and their colleagues have mined for information on the factors that predispose human beings to long and productive lives.
The authors expound at length on why the data and their studies are valid, and the results applicable to most people, not just intellectual geniuses. And the results—no surprise—are much more complicated than conventional wisdom would lead one to believe. So interesting and complex are the relationships that it would be an insult to the researchers to attempt to distill their findings in a simple review. But I will note a few items of interest.
Conventional wisdom often confuses correlation with causation. For example, although it is commonly believed that happiness promotes good health, and vice versa, the relationship is not in either direction cause-and-effect. Rather, the same underlying factors promote both happiness and health.
The best personality predictor of longevity—as children and as adults—was what the authors call conscientiousness: people who were prudent, persistent, dependable, thrifty, detail-oriented, and responsible.

It is not only that conscientious people have better health habits and healthier brains, but also that they find their way to happier marriages, better friendships, and healthier work situations. That's right, conscientious people create healthy long-life pathways for themselves.

Another key factor is social network, but as usual, it's more complicated than simple sociability. Being an extrovert, having many friends, and abundant social activity do not presage a long life. Sociability itself, the authors say, is "a wash." An active social life is a two-edged sword; how it cuts depends on the quality of the friends and of the activities.

Social ties, however, are critical: having a large support network is directly correlated with longer life. Interestingly, feeling loved and cared for did not improve longevity, but helping and caring for others did.

(More)