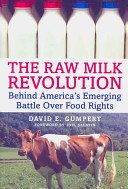 The Raw Milk Revolution: Behind America's Emerging Battle Over Food Rights, by David E. Gumpert (Chelsea Green Publishing, White River Junction, Vermont, 2009)
That the forward to The Raw Milk Revolution was written by Joel Salatin—whose Polyface Farms is the poster child for independent, sustainable farming—gives the reader a good idea of where the book ends up. That's a lot more than the author knew when he began his investigation. He was over 50 when he had his first glass of raw milk, and hadn't given milk of any form much thought for some 30 years.
But for a writer with interests in both small businesses and health, the growing demand for unpasteurized, unhomogenized milk—and the increasing governmental interference with the small dairy farms that are its only source—was a natural field to investigate.
I had my first glass of raw milk at lunch, with a homemade chocolate chip cookie.... Suddenly I was back in my childhood, with my all-time favorite snack. The milk was as creamy and rich tasting as it looked, with a slight sweetness I didn't recall from my childhood milk. ... But I'd be lying if I didn't admit that overhanging the experience was an anxiety-laden question provoked by my American history classes highlighting the importance of pasteurization in saving lives: Might this wonderful milk kill me? I actually went to sleep wondering whether I'd wake up. ... Of course, there was no bad reaction of any sort, and I became a regular customer.
Gumpert is lucky. The places one can legally purchase raw milk are few. In Switzerland Janet lives an easy walk from a local dairy, where she can buy all she wants at a good price. Pennsylvania is one of the few states in the U.S. where raw milk is legal, and Heather can get some for the cost of a long drive and a lot more money than the grocery store charges for their agri-business milk. In Florida we can't buy it legally at any price, except as (very expensive) pet milk, "not for human consumption." (More)