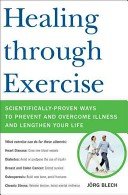 Healing through Exercise: Scientifically-Proven Ways to Prevent and Overcome Illness and Lengthen Your Life, by Jörg Blech (Da Capo Press, 2009) Originally published as Heilen mit Bewergung (S. Fischer Verlag, 2009)

We all know exercise is good for us, right? So who needs yet another book telling us so?
Knowing what we should be doing is one thing, but actually doing it is another, and Healing through Exercise provides motivation in spades.
Beware the cure that is marketed as a panacea, we are told: if it claims to fix all ills, it's probably a fraud. That's sound advice, but Jörg Blech makes a convincing case that simple, regular exercise is as close to a cure-all as we'll ever find. Whether the issue is heart disease, diabetes, osteoporosis, cholesterol, hypertension, Alzheimer's disease, back pain, cancer, impotence, ADHD, depression, brain development, immune system health, stress overload, or "old age," moderate, regular exercise is essential—and in some cases even sufficient—for preventing illness and restoring health. We're more familiar with the preventative side, but Blech cites study after study showing how exercise can even reverse existing damage. It's never too late to take advantage of the benefits of exercise. (Note to self: this should be incentive to get started at any age, but never an excuse for procrastination.) (More)