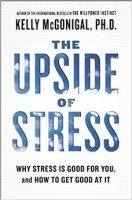 The Upside of Stress: Why Stress Is Good for You, and How to Get Good at It by Kelly McGonigal (Avery, 2015)
For a book that has such an important message, and which my read-through has left bristling with sticky notes, this was surprisingly hard to finish. It's equally hard to summarize for this review. I'd hoped that McGonigal's TED talk would be an inspiring summary, so I wouldn't have to say, "read the book." But the talk lacks the details and documentation of the book, and, since it came before the book, lacks several key elements. So I'll say it: "Read the book."
Now, I know that most of you won't, so here's a taste.
Despite everything you've heard, it's not stress that's killing you. What's killing you is believing that stress is killing you. If you see stress as a positive force, it does you no harm. Like grasping the nettle.
Oh, great. So not only is stress killing me, but it's all my fault because I can't make myself pretend it isn't killing me....
Relax. It's not that bad. Really.
As a health psychologist, Kelly McGonigal had made a career out of telling people how bad stress is for their health, and teaching them techniques to help reduce it. But then she came across a study that indicated that by encouraging people to fear and avoid stress, wasn't helping them, but making their lives worse. She might have ignored, or discredited the research, but instead threw herself into investigating this crazy idea, and came away convinced.
In 1998, thirty thousand adults in the United States were asked how much stress they had experienced in the past year. They were also asked, Do you believe stress is harmful to your health?

Eight years later, the researchers scoured public records to find out who among the thirty thousand participants had died. Let me deliver the bad news first. High levels of stress increased the risk of dying by 43 percent. But—and this is what got my attention—that increased risk applied only to people who also believed that stress was harming their health. People who reported high levels of stress but who did not view their stress as harmful were not more likely to die. In fact, they had the lowest risk of death of anyone in the study, even lower than those who reported experiencing very little stress.

The researchers concluded that it wasn't stress alone that was killing people. It was the combination of stress and the belief that stress is harmful. The researchers estimated that over the eight years they conducted their study, 182,000 Americans may have died prematurely because they believed that stress was harming their health.

... According to statistics from the Centers for Disease Control and Prevention, that would make "believing stress is bad for you" the fifteenth-leading cause of death in the United States, killing more people than skin cancer, HIV/AIDS, and homicide.
But there's good news: very small changes can have a great effect on how we look at stress. A brief lecture on the benefits of stress, ten minutes spent writing about what values we find important; such brief interventions have been shown again and again to have long-lasting effects. This isn't a think-and-get-rich plan, nor a placebo effect, but more of a butterfly effect.
[T]o many, these results sound more like science fiction than science. But mindset interventions are not miracles or magic. They are best thought of as catalysts. Changing your mindset puts into motion processes that perpetuate positive change over time.
A belief with this kind of power goes beyond a placebo effect. This is a mindset effect. Unlike a placebo, which tends to have a short-lived impact on a highly specific outcome, the consequences of a mindset snowball over time, increasing in influence and long-term impact.
I'm very bad at doing the "exercises at the end of the chapter" in any book, but even so, simply reading through this one has already made a difference in my life. How much remains to be seen, but the butterfly has flapped its wings, and I'm looking forward to seeing what happens.
And now for the quotes. Extensive, yes, but I'm still leaving too much out. If you can get the book from a library, as I did, it will be well worth your while; it's repetitive enough that you can skim and get the major points. Is it worth $13 for the Kindle version? I don't know; maybe it depends on how stressed you are.... (More)