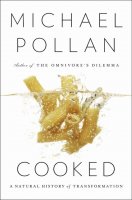 Cooked: A Natural History of Transformation by Michael Pollan (Penguin, 2013)
(This is a long post, with many excerpts from the book. Consider it an appetizer.)
I almost always start writing reviews in my mind before finishing the book. I'd planned to begin this one with, "I've never met a Michael Pollan book I didn't love. Having made my way through the 468 pages, I can still say that with honesty, though honesty also compels me to admit the last quarter of the book was somewhat of a trial.
For all his interest in food, Pollan hadn't given cooking much thought.
Until, that is, I began trying to unpack a curious paradox I had noticed while watching television, which was simply this: How is it that at the precise historical moment when Americans were abandoning the kitchen, handing over the preparation of most of our meals to the food industry, we began spending so much of our time thinking about food and watching other people cook it on television? The less cooking we were doing in our own lives, it seemed, the more that food and its vicarious preparation transfixed us.
I see this less as a paradox and more as a repeated pattern: the less we commit to and invest of ourselves in the heart and meaning of something, the more we extravagantly value the form, and set others to doing it for us. When the marriage itself was the raison d'être of a wedding, a reception created and overseen by "women of the church" was sufficient to honor the couple and the guests. Now we have devalued the marriage vows and it's the reception, professionally catered, decorated, and orchestrated, into which the time, money, and attention are poured. The less we make music ourselves, in our families and communities, the more we value the concert tickets, recordings, and iPods that bring the work of the professional musician into our lives. How many sports fans, ever-ready to critique the missed basket, the dropped ball, the faulty kick, get any closer to a real game than driving their children to practice?
But I digress. What Pollan did was to get serious about cooking for himself and his family.
[The decline of home cooking] is a problem—for the health of our bodies, our families, our communities, and our land, but also for our sense of how our eating connects us to the world. Our growing distance from any direct, physical engagement with the processes by which the raw stuff of nature gets transformed into a cooked meal is changing our understanding of what food is. Indeed, the idea that food has any connection to nature or human work or imagination is hard to credit when it arrives in a neat package, fully formed. Food becomes just another commodity, an abstraction. And as soon as that happens we become easy prey for corporations selling synthetic versions of the real thing—what I call edible foodlike substances. We end up trying to nourish ourselves on images.
It has been argued that it is more efficient to work an extra hour at the office, doing what we do well, and let restaurants do what they do best.
Here in a nutshell is the classic argument for the division of labor, which, as Adam Smith and countless others have pointed out, has given us many of the blessings of civilization. It is what allows me to make a living sitting at this screen writing, while others grow my food, sew my clothes, and supply the energy that lights and heats my house. I can probably earn more in an hour of writing or even teaching than I could save in a whole week of cooking. Specialization is undeniably a powerful social and economic force. And yet it is also debilitating. It breeds helplessness, dependence, and ignorance and, eventually, it undermines any sense of responsibility.
Pollan divides his cooking adventures, cleverly and classically, into Fire, Water, Air, and Earth. Fire is a dissertation into the earliest and most primitive cooking method: meat over flame. Along the way he explores the "cooking hypothesis," a recent theory that attempts to explain the development of Homo erectus, "the first primate to bear a stronger resemblance to humans than apes."
Anthropologists have long theorized that the advent of meat eating could account for the growth in the size of the primate brain, since the flesh of animals contains more energy than plant matter. But ... the alimentary and digestive apparatus of Homo erectus is poorly adapted to a diet of raw meat, and even more poorly adapted to the raw plant foods that would still have been an important part of its diet, since a primate cannot live on meat alone. The chewing and digestion of raw food of any kind requires a big gut and big strong jaws and teeth—all tools that our ancestors had lost right around the time they acquired their bigger brains.

The control of fire and discovery of cooking best explain both these developments. ... Appliying the heat of a fire to food transforms it in several ways—some of them chemical, others physical—but all with the same result: making more energy available to the creatures that eat it. ... [C]ooking opened up vast new horizons of edibility for our ancestors, giving them an important competitive edge over other species and, not insignificantly, leaving us more time to do things besides looking for food and chewing it. ... [Anthropologist Richard Wrangham] estimates that cooking our food gives our species an extra four hours a day. (This happens to be roughly the same amount of time we now devote to watching television.)
By freeing us from the need to feed constantly, cooking ennobled us, putting us on the path to philosophy and music. All those myths that trace the godlike powers of the human mind to a divine gift or theft of fire may contain a larger truth than we ever realized.

Yet having crossed this Rubicon, trading away a big gut for a big brain, we can't go back, as much as raw-food faddists would like to. ... By now, "humans are adapted to eating cooked food in the same essential way as cows are adapted to eating grass," Wrangham says.
Pollan discusses animal sacrifice, and why fire-cooked meat-eating grew up as a sacred act, hedged in by a multitude of rules and governed by a priestly class. From there he moves naturally to the modern barbecue, which retains obvious vestiges of those ancient cultures. I dare you (unless you happen to be a diehard vegetarian) to read this section of the book without your mouth watering. For the record, "authentic barbecue" has nothing to do with what you do when you slap a steak on your gas grill. It is pork, pork alone, and preferably the whole pig, cooked with as many rules as any ancient sacrifice. It's a pity I didn't know anything about barbecue culture when my in-laws lived in South Carolina! (More)