Blackberry = Crackberry? The iPhone is more addictive and targeting children! Well, maybe that wasn't Apple's intention, but they did make their phone so easy even tiny kids can use it. My brother tipped me to a New York Times article on parents who use their iPhones to pacify whining offspring, and the toddlers who consider the phone to be the best toy in the toybox.
Instead of writing about how impressed I am with the tiny kids' abilities (and I am), or how depressed I am about yet another video addiction in chidren's lives (ditto), I'll use the context to mention our own toddler/computer story.
One day Heather discovered two-year-old Faith sitting at the computer, typing away in their Open Office word processing program. She assumed Jon had set it up for her, but that was not the case.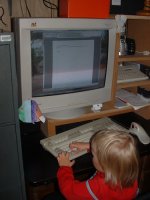 No one knows how she did it. This is no consumer-friendly iPhone, nor even Windows, but a Linux-based system only a geek could love. Go, little geeklet!