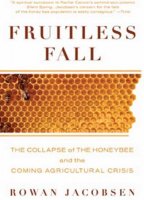 Fruitless Fall: The Collapse of the Honey Bee and the Coming Agricultural Crisis, by Rowan Jacobsen (Bloomsbury, New York, 2008)
Fruitless Fall had been my "to read" list since mid-2009 and, thanks to generous family, on our bookshelves since Christmas. I loved Jacobsen's Chocolate Unwrapped, so why it took so long to begin this book is beyond me. Once begun, however, I couldn't stop, and finished it the same day. There are a few compensations for being sick and not having the energy to tackle much of anything else.
Speaking of feeling sick ... Fruitless Fall is scarier than The Omnivore's Dilemma, Food, Inc., and Everything I Want to Do Is Illegal combined. Or perhaps the effect is cumulative.
That's not to say the book isn't a delight to read, doing for honey and beekeeping what John McPhee's Oranges did for the citrus industry many long years ago. (I wish someone would write an update, as McPhee's book ends when frozen concentrate was king.) The overall theme is the recent precipitous and inexplicable decline of bees and beekeepers, with many side notes (some delightful, some frightening) along the way. (More)