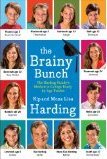 The Brainy Bunch by Kip and Mona Lisa Harding (Gallery Books, 2014)
Facebook, like smartphones, can enslave or empower. Or both at once. At the moment I'm feeling grateful to Facebook, and the friend who posted a link that eventually led me to this Today Show feature about the Harding family and their book.
As most of you know, education has long been my passion, particularly the education of young children, and most especially my belief that most children can learn and do so very much more than we give them the opportunity to achieve. It will thus come as no surprise that when I heard of a family where seven (so far!) of the children had gone to to college by the time they were twelve years old, I immediately ordered the book from our library, and finished reading it the day after I picked it up. If read with an open mind, this is a book that can blow away a number of stereotypes and presuppositions, and not just about education.
Although a large number of homeschoolers are Christians, including many who have spectacular records both academically and socially, as the movement has grown there have slso been examples of less-than-stellar achievement, especially in academics. It is unfortunate that when many people think of "Christian homeschoolers," it is the latter example that comes to mind. The Harding family is a stunning counterexample, especially since The Brainy Bunch bristles with buzzwords that set off alarm bells: Mary Pride, A Full Quiver, Josh Harris, early marriage, Michael and Debi Pearl (at least they label the Pearls' book "a bit legalistic"), creationism, the Duggar Family, and others that might send some running for the hills. But hang on—they also mention John Taylor Gatto, Raymond and Dorothy Moore, unschooling, and the Colfaxes, quite on the opposite end of the spectrum (inexplicably leaving out John Holt, however). Mona Lisa and Kip sound like people after my own heart, able to take the best from many sources and leave aside what doesn't work for them. In any case, the family deals a clean blow to many prejudices, including that of the college student who once told them, "Children in big families have low IQs."
The Hardings insist, however, that their IQs are strictly average; their children are not geniuses. This bothered me at first, as it seemed almost a reverse boast, as if there were something wrong with being smart. But I think I know why they make this point, and it's important. There are a surprising number of people who have gone to college at an extremely young age (here's a list of the ten youngest), but they are generally prodigies with super-high IQs and extraordinary skills. This does nothing to encourage most families to believe that early college entrance is possible for their children. Or desirable. Despite its title, The Brainy Bunch shows that this higher-level work is well within the grasp of the average student, and why this is a good idea.
Some might even say the Hardings started out as a below-average family, or at least one with several strikes against it when it came to predicting their children's academic success. Kip and Mona Lisa were high school sweethearts who married in their teens. After high school, he went into the military and she started having babies. Lots of babies. Their life was not easy, requiring many moves, and times of great financial hardship. And yet here they are, with their children not only college graduates but successful at a young age in many fields: engineering, architecture, medicine, music, and more. (More)