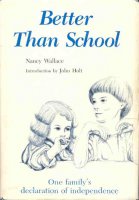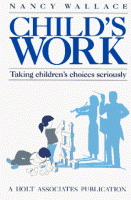 Better Than School by Nancy Wallace (Larson Publications, 1983)
Child's Work: Taking Children's Choices Seriously by Nancy Wallace (Holt Associates, 1990)
These stories of the education of Ishmael and Vita Wallace have been high on my list of favorite books since our own homeschooling days. Recently I re-read them both, confirming my suspicions that the Wallaces—flying by the seat of their pants in an era when homeschooling was almost unheard of, and often illegal—discovered many of the principles now refined in Project-Based Homeschooling.
The last time I read about the Wallaces' struggles with onerous regulations and imperious school boards, I noted how blessedly out of date it was, for although there are still those in the United States who would make homeschooling illegal again if they could, for the most part homeschoolers here can rest in the knowledge that the right to direct the education of our own children is recognized in all fifty states. This time, however, I read those parts of the books with renewed interest, since Switzerland, while much more advanced than the U.S. in some areas, is woefully behind us in this. Some of the Wallaces' experiences and arguments may turn out to be relevant, or at least to give inspiration.
Don't you just hate it when you read an inspiring story from the past and have no idea what happened to the characters in subsequent years? With Vita and Ishmael, at least, that question can be answered by visiting their Orpheo Duo website.
Here are a few, somewhat random, quotations. You really need to read the books to get a good sense of the story, however.
Walking into the meeting knowing that we had a majority [of the school board] on our side was a lot better than not knowing what to expect, but I guess I really wanted more than that. I wanted the whole board to admit that we were doing a terrific job with our kids and to be interested in our approach to education. After all, there was a lot the public schools could have learned from us. What disturbed me the most was that not only were two of the board members completely uninterested in what we were doing but they seemed to want the kids to go to school no matter what. When I wrote about this to John Holt, he responded with some very insightful remarks that I'll never forget. "One of the saddest things I've learned in my life," he said, "one of the things I least wanted to believe and resisted believing for as long as I could, was that people in chains don't want to get them off, but want to get them on everyone else. 'Where are your chains?' they want to know. 'How come you're not wearing chains? Do you think you are too good to wear them? What makes you think you're so special?'" (BTS, 114-115)