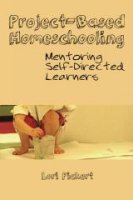 Project-Based Homeschooling: Mentoring Self-Directed Learners by Lori Pickert (independently published at CreateSpace, 2012)
Janet's enthusiasm over Project-Based Homeschooling led me to be sure I read the book while I had access to it in Switzerland. I had to get over some misconceptions, and I found the ideas intimidating, but I agree: it's a must-read for homeschoolers, and in truth important for all parents. Maybe for everybody.
The Misconception Way back when, in our homeschooling days, a popular approach was called Unit Studies. Here's an essay on unit studies as they relate to what's now called Classical Education; it give a pretty good idea of what they are about. Basically, you pick a topic you hope your child will be interested in, and integrate the teaching of all subjects into a study of that topic. At the time, I found the method too structured, too school-at-home, and too much work. I assumed project-based homeschooling was a re-working of unit studies.
I was wrong. There are similarities: a child working on a project is integrating many disciplines and skills together. But project-based homeschooling is an excellent example of why unschooling, well done, is absolutely not the "let the kid play video games all day" approach its detractors think it is.
Projects of this sort are the child's idea and the child's responsibility. That doesn't mean, however, that the parents are off the hook. It seems to me that the work involved in observing and coaching a project is much harder than following a curriculum. Which leads me to ...
The Intimidation I love the ideas. I really do. But even as a do-it-yourself, lone wolf kind of homeschooler, this is out-of-my-comfort-zone thinking. Probably because if Earth is my comfort zone, art projects are somewhere around Neptune, and so much of the examples here involve using art materials. The author seems to think it natural to work through one's ideas by making a painting or modelling in clay. I don't believe I've ever in my life even thought about doing that—and I've live a lot of years—so the idea of coaching a child to do so leaves me queasy. Fortunately, Lori Pickert was kind enough to explain, in a comment on Janet's review, that "if drawing and painting make you nervous, there's still building, writing, designing t-shirts and websites, putting on skits, making brochures and posters, etc. etc. etc.—it's more about helping kids figure out a way to help others learn and along the way that reinforces what they know/don't know and how you collaborate, share, etc."
Also, she's careful to give the neophyte a break:
Surprisingly often, people will champion self-directed learning for children but not allow those children's parents the same freedom and respect. It's their way or the highway, and you had better start doing it the right way (their way) right away. Your kids should learn at their own pace, follow their interests, and you should trust that they'll eventually learn everything they need to know. You, on the other hand, should get with the program, right now, 100%, or else. You don't need to have your own opinions or ideas; ours will suffice. There's no time to experiment and see if these ideas work for you; take it on faith or you're part of the problem.

If your child deserves to learn at his own pace and have his own ideas, so do you. Whatever you champion for your child, make sure you also give to yourself: the right to follow your own path, work at your own pace, follow your own interests, make mistakes, and try again. Whatever you want for your children, you are far more likely to help them achieve it if you live it yourself.
It's hard to do justice to the project-based homeschooling concept without taking a lot more time and effort than I'm willing to put forth at the moment—not to mention that I'd need the book, which presently is some 4500 miles away. However, I do have some excerpts, which I copied down before relinquishing the book. (More)